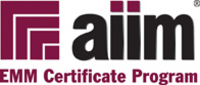 This is why we have invested in documenting best practices for email management amongst our 50,000 Associate and Professional members, and I am very impressed with the content of our new Email Management Certificate Program
Silver Spring, MD (Vocus) February 26, 2008
Email is the biggest content security concern for corporate America. AIIM , the leading industry association for records, document, and content professionals, has introduced a new Email Management training course in industry best practices for improving the control of corporate emails.
Email is arguably the single largest source of information creation for most organizations. Yet for the majority, email is managed poorly – if at all. According to a recent AIIM Market IQ survey on Content Security, email has become the biggest content security concern for businesses. In order to ensure that email is managed for regulatory compliance, operational efficiency, and strategic advantage, businesses and public-sector groups alike must take better control of their email policies, processes, and technologies. Assuming budget is available; the top three primary obstacles to implement solutions are reported to be lack of understanding, complexity of solution, and user resistance.
Email plays a significant role in documenting decisions and conducting the business of an organization. Truly an enterprise-wide, mission-critical application that affects every user in an organization, it is critical that email be managed appropriately, so that stakeholders retain access to the information contained therein.
"The industry needs a better understanding of best practices for improving the control of corporate emails" says John Mancini, President of AIIM. "This is why we have invested in documenting best practices for email management amongst our 50,000 Associate and Professional members, and I am very impressed with the content of our new Email Management Certificate Program".
Knowledge workers have different perspectives on what email management means depending on their role – individual users want to be able to find their own messages, while records management and legal must ensure that messages can be produced across the organization in support of legal or regulatory requirements.
AIIM's new Email Management (EMM) Certificate Program provides students with an understanding of industry best practices, and existing and emerging technologies for managing corporate emails. The course objectives and content were defined and reviewed by subject matter experts participating in AIIM's Education Advisory Group. Course materials were based on industry best practices and developed by Jesse Wilkins and other industry experts at Access Sciences Corporation.
Each course student receives access to supporting online courses and exams, and is awarded the AIIM EMM Practitioner, Specialist and Master designation after passing the online exams (and case study for Master candidates).
Key areas covered in the program include:

Email capture and retention
Technologies for email management
Email storage, archiving and backup
Email classification
Developing, implementing, and managing the email policy
Governance
AIIM has scheduled several classes across North America, but also plans to introduce online courses early March. For more information about the training program, visit http://www.aiim.org/training.
About AIIM (http://www.aiim.org)
AIIM is the community that provides education, research, and best practices to help organizations find, control and optimize their information. With 50,000 industry professionals as associates, the association is international in scope, independent, implementation-focused, and, as the representative of the entire ECM industry - including users, suppliers, and the channel - acts as the industry's intermediary.
As a neutral and unbiased source of information, AIIM serves the needs of its members and the industry by providing educational opportunities, professional development, reference and knowledge resources, networking events, and industry advocacy. Visit the Conquer Information Chaos BLOG at http://aiim.typepad.com/aiim_blog/ .
Contact:
Beth Mayhew
Director, Marketing
301.755.2681
bmayhew @ aiim.org
Atle Skjekkeland
Vice President, Professional Development
301.755.2657
askjekkeland @ aiim.org
AIIM
1100 Wayne Avenue, Suite 1100
Silver Spring, MD 20910, 301.587.8202
# # #