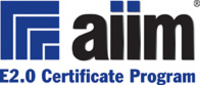 Everything is Miscellaneous: The Power of the New Digital Disorder
Silver Spring, MD (Vocus) February 26, 2008
The industry association AIIM has developed an Enterprise 2.0 training course in best practices for using web 2.0 technologies to improve collaboration and knowledge management within an enterprise. This vendor neutral training program was developed by AIIM and is based on learning objectives defined by an advisory panel consisting of some of the industry's foremost thinkers on Enterprise 2.0.
The advisory panel is a veritable "Who's who" consisting of:

"We are very proud to have this distinguished panel of advisers to help us with the development of the new Enterprise 2.0 Certificate Training Program," stated John Mancini, President of AIIM. "These experts supported AIIM and our Education Advisory Groups in Europe and US to identify how Enterprise 2.0 can provide rapid and agile collaboration, information sharing, emergence, and integration capabilities in the extended enterprise."
Andrew McAfee, Associate Professor, Harvard Business School, defines Enterprise 2.0 as the use of emergent social software platforms within companies, or between companies and their partners or customers. The development of the new Enterprise 2.0 training program was lead by AIIM's in-house subject matter experts Carl Frappaolo and Dan Keldsen, but also supported by AIIM's Education Advisory Groups with leading industry experts from the private and public sectors, solution providers, consultants and analysts. Carl Frappaolo is well known in the Knowledge Management community as an author of several books, and founder of Delphi Group. Dan Keldsen is a respected Web 2.0 expert, and previous experience includes working as CTO of Delphi Group.
The new Enterprise 2.0 (E2.0) Certificate program provides students with an understanding of industry best practices, and existing and emerging technologies for Enterprise 2.0. Course attendees receive access to supporting online courses and exams, and are awarded the AIIM E2.0 Practitioner, Specialist and Master designation after passing the online exams (and case study for Master candidates).
Key areas covered in the program include:

Evolution and definition of Enterprise 2.0 technologies
Frameworks and concepts
Worker models for Enterprise 2.0
Risk and control vs. collaboration and innovation
Assessing organizational readiness
Best practices for implementing Enterprise 2.0
AIIM has scheduled several classes across North America, and plans to introduce online courses in early March. For more information about the training program, visit http://www.aiim.org/training.
About AIIM (http://www.aiim.org)
AIIM is the community that provides education, research, and best practices to help organizations find, control and optimize their information. With 50,000 industry professionals as associates, the association is international in scope, independent, implementation-focused, and, as the representative of the entire ECM industry - including users, suppliers, and the channel - acts as the industry's intermediary.
As a neutral and unbiased source of information, AIIM serves the needs of its members and the industry by providing educational opportunities, professional development, reference and knowledge resources, networking events, and industry advocacy. Visit the Conquer Information Chaos BLOG at http://aiim.typepad.com/aiim_blog/ .
Contact:
Beth Mayhew
Director, Marketing
301.755.2681
bmayhew @ aiim.org
Carl Frappaolo
Vice President, Market Intelligence
617.933.2584
cfrappaolo @ aiim.org
AIIM
1100 Wayne Avenue, Suite 1100
Silver Spring, MD 20910, 301.587.8202
# # #