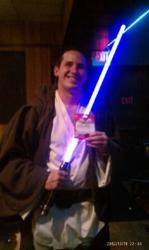 Everyone was having fun with the wild costumes and dancing.
Norfolk, VA (PRWEB) November 02, 2012
Holiday events are slammed as the Banque hosts Frankenstein Friday as a prelude to the Halloween Costume Party that occurred October 31st.. Military Appreciation Night at The Banque is more popular with combination events and the sponsored giveaway provided by Exchange USA. Visa Gift Cards and an HDTV provided by Norfolk Secured Military Loan Retailer helps regular crowd swell at the only Country Western Bar in Hampton Roads catering to military customers.
"It was just crazy, the placed was packed, everyone was having fun with the wild costumes and dancing." stated Kaila Hector, Exchange USA, Retail Stores Director. "It was nice to be there to give back to the military - not that they weren't missing any source of entertainment- the music was great and the dance floor was jammed."
The drawing for the TV and Gift Cards was popular- hundreds of party goers entered in hopes of winning the HDTV- just one of many products carried by Exchange USA. In addition to consumer electronics the company carries Furniture, Appliances, Rim/Tires, Gas Scooters, Computers, Televisions and more. In addition, Exchange USA Military Travel Services provides military travel loan financing for active and retired US Military, their family, dependents and friends.
Speaking of family and friends the winners at the events included Rebecca Derstler and Jason Bach who both walked away with $100 worth of Visa Gift Cards. The big winner for the Halloween Night Drawing was Jessica Lee Griffin, who was the lucky recipient of the big screen HDTV. Jason, AKA Luke Skywalker, was disappointed he didn't win the costume contest, but happy with his Visa Gift card- hoping it was enough to cover the tab for the night.
Company Information:
Eatin' Dancin' & Havin' Fun! The Banque is an Award Winning Country Western Restaurant & Nightclub serving Hampton Roads since 1973. A local favorite, The Banque has been hosting Military Appreciation Night on Wednesdays for more than 3 decades. Located at 1849 E Little Creek Road, Norfolk, VA 23518, the Banque can be reached at 757-480-3600 or through their website http://www.thebanque.com
Exchange USA is based in the newly revamped East Beach Shopping Center at the corner of Shore Drive and East Little Creek Road. Offering consumer and military financing on lifestyle products and travel, Exchange USA was founded in 2009 and is has quickly become a local market leader. Located at 4039 E Little Creek Rd., the company can be reached at 757-695-3388 or through their website at http://www.myexchangestore.com