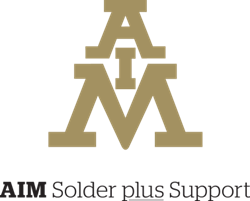 CRANSTON, R.I. (PRWEB) October 25, 2018
AIM Solder, a leading global manufacturer of solder assembly materials for the electronics industry, is pleased to announce that it will co-host a SMT Electronics Assembly Technology Seminar in Shanghai¸ China on November 15th, 2018.
Derek Wang, Technical Support Manager, will discuss high reliability soldering materials that can perform in harsh service environments. Derek's presentation will cover the benefits of AIM's high reliability lead-free solder alloys, REL61™ and REL22™. Extensive testing has shown these REL alloys to significantly reduce tin whisker formation as well as outperforming SAC alloys in thermal shock, vibration and drop shock resistance, making these alloys the ideal choice for all mission critical electronics applications.
This free seminar, hosted by AIM, Peters, and Zestron, will be held at the Zestron facility in the Minghang Distric in Shanghai, China. For more information, please contact Hugh Chu via email at hchu@aimsolder.com or by phone at +86 15112593095.
Derek Wang
Derek Wang is a Technical Support Manager for AIM Solder. He is a SMTA Certified Engineer and also serves as a SMT Processes Trainer. With over thirteen years' experience in the SMT industry, Derek supports AIM customers in Eastern China.
About AIM
Headquartered in Montreal, Canada, AIM Solder is a leading global manufacturer of assembly materials for the electronics industry with manufacturing, distribution and support facilities located throughout the world. AIM produces advanced solder products such as solder paste, liquid flux, cored wire, bar solder, epoxies, lead-free and halogen-free solder products, and specialty alloys such as indium and gold for a broad range of industries. A recipient of many prestigious SMT industry awards, AIM is strongly committed to innovative research and development of product and process improvement as well as providing customers with superior technical support, service and training. For more information about AIM, visit http://www.aimsolder.com.