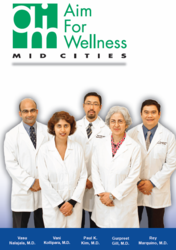 Doctors of Internal Medicine Providing Innovative
and Exceptional Patient Care
Dallas, Texas (PRWEB) May 02, 2011
AIM For Wellness Mid Cities is proud to bring patient-centered health-care to the Hurst-Euless-Bedford area in North Texas. AIM For Wellness Mid Cities is led by Dr. Paul K. Kim, who has been serving the North Texas community for over 17 years. He and his colleagues, Dr. Vasu Nalajala, Dr. Rey Marquino, Dr. Vani Kollipara and Dr. Gurpreet Gill specialize in Internal Medicine. Combined, they have over 50 years of experience providing patients with specialized medical care. The physicians practiced together previously at the North Hills Senior Clinic and founded AIM For Wellness Mid Cities to expand their patient base beyond the geriatric population. Dr. Kim says, "We are excited about the new clinic and being able to provide all adults, 18 years of age and older, as well as the senior population, with extraordinary, world class, patient care."
AIM For Wellness Mid Cities is holding an open house for members of the community, medical professionals and members of the media to visit the new practice Thursday, May 12, 2011 from 4:30PM – 6:30PM. Complimentary refreshments and Hors d'oeuvres will be served. AIM For Wellness Mid Cities is located in the Cardiac and Vascular Center, just a few blocks north of the intersection Highway 121, at 1924 Forest Ridge Drive, Bedford, Texas 76021.
"The Cardiac and Vascular Center building and location is perfect for Dr. Kim and his colleagues," says Steve Williams, an Executive Director for Texas Health Resources. AIM For Wellness Mid Cities is conveniently located right off of highway 121, and the building is easily accessible with plenty of parking. Patients can be seen for common colds and illnesses, as well as get their normal routine check-ups; however, if there are tests required, this location offers a wide array of diagnostic tests and services that are performed under the same roof. These services include CT Angiography, Ultrasound, Vascular and Stress Testing, just to name a few, as well as an on-site laboratory. "AIM For Wellness Mid Cities takes pride in patient convenience, also offering a free courtesy shuttle to patients with special needs. All major insurance and Medicare is accepted with plans for self-pay patients as well," states Mr. Williams.
For more information, call 817.354.2680 or visit them online at http://www.aimmidcities.com. To RSVP for the open house, please call Dalyce Kelley at 214.916.5667 or email aimmidcities(at)gmail(dot)com.
ABOUT AIM FOR WELLNESS MID CITIES
AIM For Wellness Mid Cities is led by Dr. Paul K. Kim. He and his four colleagues, Dr. Rey Marquino, Dr. Gill Gurpreet, Dr. Vasu Nalajala and Dr. Vani Kollipara, specialize in Internal Medicine. Combined they have over 50 years of experience serving the community and practicing medicine. They share common interests of providing all adults 18 years and older with individualized, innovative and exceptional patient-centered care.
# # #