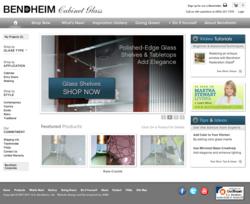 Their ideas are on target, and their creative web development work not only looks good but delivers the results we want.
Charlotte, NC (PRWEB) January 31, 2012
Marketing and web development firm AIMG │ Accurate Imaging, Inc., recently launched a newly designed website with updated look and customer tools for the cabinet glass division of long-time clients S.A. Bendheim, Ltd.
"The new website design," said Joe DeMicco, AIMG's CEO & Founder, "was built from the top down. It not only reflects the naturally occurring changes resulting from company growth but knowledge about the customer gleaned from the website analytics. The objective was to take something that was already succeeding and make it better. It is important to continue to make updates to take advantage of what is working instead of waiting for something to be broken. It's like fine tuning a race car: even though it's already a winner, there's always room for faster times. That's what we did here. Based on quantifiable intelligence and the real-life experience of the Bendheim team, the new website design reflects the search behaviors, tastes, and product interests of people who buy Bendheim glass for their home projects."
In addition to an elegant, minimalist 'look and feel,' the new website design offers site visitors a number of additional features to help them with their discovery and selection process. To accommodate the variety of ways customers may search for product, new search tools were added to allow for selection by glass type, application, or style. As before, the customer is further aided by product images that clearly demonstrate the effect of the cabinet glass product.
Customers are now able to develop, store and share details of a home project they are working on in their My Project section of the site. Once they become a registered user, customers can easily manage projects by file name, such as 'Kitchen Cabinets,' for example. The tool also works to make the site "stickier," keeping customers engaged and giving them even more reasons to come back to interact with Bendheim cabinet glass products.
"We are constantly looking for ways to serve our customers better," said Robert Jayson, President of Bendheim and third-generation co-owner. "From environmentally-friendly decorative glass products to design guidance and do-it-yourself help, we now offer customers a much more vital site. Our work with Joe DeMicco and his team at AIMG will continue. They clearly understand our objectives and what we have to do to meet them. Their ideas are on target, and their creative web development work not only looks good but delivers the results we want."
The new Bendheim Cabinet Glass website designed by AIMG is available at http://www.bendheimcabinetglass.com.
For information about AIMG' s marketing and web development services call (704) 321-1234 or visit http://www.aimg.com.
About AIMG | Accurate Imaging
AIMG | Accurate Imaging is a full service marketing, web development and search engine optimization (seo) agency, headquartered in Charlotte, NC, that serves clients in the United States, Canada and Europe. It offers website design, search engine optimization, custom application development, consulting for business development and marketing services. AIMG's divisions include Enterprise Business Solutions, Small Business Marketing, Strategic Local Marketing, Industrial Sector Marketing, Medical Marketing, and its NOA Marketing Division specializing in the needs of non-profits, organizations and associations. Visit http://www.aimg.com or call (704) 321-1234.
About Joe DeMicco
Joe DeMicco has been an online and marketing consultant for almost 20 years. He started his flagship company AIMG | Accurate Imaging in 1994. He has worked as a consultant and produced solutions for companies like BMW, Discovery Communications, Publicis, Thomas Register (ThomasNet), Net2Phone, Robotic Industries Association, Automated Imaging Association, Hose-McCann Communications, E-Z-EM (now Bracco Imaging), and Excite Media Group. In 2007 he established Industrial Web Solutions, which specializes in online and offline solutions for industrial manufacturers. His blog DeMicco.com offers business development tips.
###