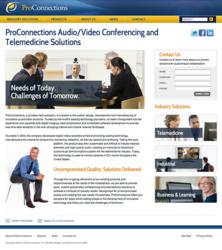 Our goal was to help our client achieve stated objectives by providing the right tools to manage and track each one.
Charlotte, NC (PRWEB) March 31, 2012
Working closely with the client's engineering, marketing, and sales teams, AIMG helped ProConnections develop a new corporate identity to introduce their new line of telemedicine and high-end video conferencing solutions. To promote the new identity and product offerings, AIMG developed a custom content management website solution with an integrated lead tracking application.
"The client is well-established in Telehealth industry for the sophisticated video and communications appliances and solutions they have developed," said Joe DeMicco, Founder & CEO of AIMG. "Interested in expanding their reach to select industries that would benefit most from their new product line, we worked closely with their team to develop a new identity, content and tools that would effectively reach their audiences and work to build their business."
Using the new corporate identity as a design starting point, AIMG created a custom website application that provides the client with the convenience of being able to add sections, pages, images, animated graphical elements and text to the live site at any time 24/7. Built on a flexible architecture that allows for future growth, the navigational and content structure strategically addresses the specific needs and wants of each target audience group. Custom developed interactive web features and calls-to-action were designed to engage readers and guide them through the conversion process to connect with the client.
"In addition to developing a number of ways for potential customers to reach out to the client," said DeMicco, "we also developed and integrated with the site a custom lead tracking application that will help the client to effectively track and manage leads the site provides. Our goal was to help our client achieve stated objectives by providing the right tools to manage and track each one. As we move forward with the next phases of the business development project, the aggregated data will provide valuable insight to help us plan and develop what needs to happen next as well as aid ProConnections to better serve their clients."
About AIMG | Accurate Imaging
AIMG | Accurate Imaging is a full service internet marketing, web development and search engine optimization (seo) agency, with offices in New Jersey and North Carolina that serve clients in the United States, Canada and Europe. It offers website design, search engine optimization, custom application development, consulting for business development and marketing services. AIMG's divisions include Enterprise Business Solutions, Small Business Marketing, Strategic Local Marketing, Industrial Sector Marketing, Medical Marketing, and its NOA Marketing Division specializing in the needs of non-profits, organizations and associations. Visit http://www.aimg.com or call 1-704-321-1234.
About Joe DeMicco
Joe DeMicco has been an online and marketing consultant for almost 20 years. He started his flagship company AIMG | Accurate Imaging in 1994. He has worked as a consultant and produced solutions for companies like BMW, Discovery Communications, Publicis, Thomas Register (ThomasNet), Net2Phone, Robotic Industries Association, Automated Imaging Association, Hose-McCann Communications, E-Z-EM (now Bracco Imaging), and Excite Media Group. In 2007 he established Industrial Web Solutions, which specializes in online and offline solutions for industrial manufacturers. His blog DeMicco.com offers business development tips.
###