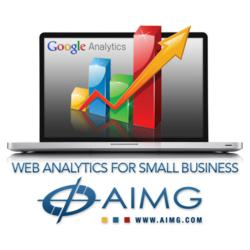 The proper use of analytics can not only improve online conversion but also save business owners money when the information is used to plan spending properly and avoid wasting investments on the wrong initiatives.
Charlotte, NC (PRWEB) July 31, 2012
Web development and internet marketing firm AIMG is offering 100 small businesses an opportunity to work one-on-one with a web consultant to learn how to interpret their company's website traffic. This $99 special program, which is available only through August 31st, 2012, includes professional implementation of Google Analytics, coding of quantifiable site goals, and a one-hour web analytics consultation with an AIMG web specialist after 30 days of aggregating results. What makes this offer unique is the satisfaction guarantee, promising a full refund if you feel you haven't gained insight into your website traffic.
"Our work with small businesses in virtually every industry since 1994 has allowed us to understand and address their specific needs and challenges in an online environment," said Joe DeMicco, CEO & Founder of AIMG. "Many small business owners simply don't know how to properly install or interpret website analytics. Even if they already have analytics installed, they don't know how to establish goals or track things like seasonal behavior or customer trends. They simply have never been shown how to turn statistical website information into actionable insight. We know how this valuable information can be used to improve a wide variety of online results like generating leads, expanding brand reach, getting more customers into their bricks-and-mortar establishment, or increasing online sales or requests for quote, for example. The key is to know what to track, how to interpret it, and then to use the information to implement changes or initiatives that will support your online goals. The proper use of analytics can not only improve online conversion but also save business owners money when the information is used to plan spending properly and avoid wasting investments on the wrong initiatives. We're confident every small business owner we work with will be pleased with the knowledge our program offers. They will begin to understand how to use the information to develop efficiencies and to capture previously missed opportunities."
AIMG's special $99 web analytics program is designed to empower the small business owner with a way to easily gather decision-making intelligence, including the ability to:
1. Understand user demographics, behavior, and flow through the website
2. Identify key traffic sources leading to the site
3. Understand the impact of social marketing initiatives
4. Learn what website content is engaging site visitors and what is not
5. Track conversions to qualified leads
6. Uncover new market opportunities by geographic region or other demographic metrics
To take advantage of the program, you must be among the first 100 small businesses to sign-up through August 31st, 2012.
For more information, call 1-704-321-1234 and reference the 100 Small Businesses Website Analytics Program.
About AIMG | Accurate Imaging
AIMG | Accurate Imaging is a full service Marketing, Web Development and Search Engine Optimization (SEO) agency, with offices in Clifton, New Jersey and Charlotte, North Carolina, that serves clients in the United States, Canada and Europe. It offers website design, search engine optimization, custom application development, consulting for business development and marketing services. AIMG's divisions include Enterprise Business Solutions, Small Business Marketing, Strategic Local Marketing, Industrial Sector Marketing, Medical Marketing, and its NOA Marketing Division specializing in the needs of non-profits, organizations and associations. Visit http://www.aimg.com or call 1-704-321-1234.
About Joe DeMicco
Joe DeMicco has been a web and marketing consultant for almost 20 years. He started his flagship company AIMG | Accurate Imaging in 1994. He has worked as a consultant and produced solutions for companies like BMW, Discovery Communications, Publicis, Thomas Register (ThomasNet), Net2Phone, Robotic Industries Association, Automated Imaging Association, E-Z-EM (now Bracco Imaging), and Excite Media Group. In 2007 he established Industrial Web Solutions, which specializes in online and offline solutions for industrial manufacturers. He is a recognized small business specialist and offers business development tips on his blog DeMicco.com.