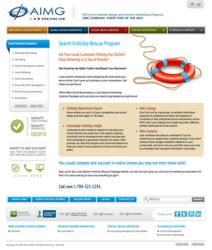 The biggest issues are a lack of understanding of how visibility is achieved and all the variables that affect search engine ranking.
Cahrlotte, NC (PRWEB) June 29, 2012
Addressing the particular challenges of small business targeting local customers online, search engine marketing and web development firm AIMG recently developed and launched an affordable local search marketing program. Designed to help businesses reach their intended audiences in the local areas they serve, the solution focuses on ways to not only increase online visibility but to effectively manage online identity and authority.
"Our recent work with a number of small businesses that market locally revealed to us the difficulties they typically experience achieving visibility in local search results," said Joe DeMicco, Founder & CEO of AIMG. "The biggest issues are a lack of understanding of how visibility is achieved and all the variables that affect search engine ranking. So we developed this small business program to help educate them and get them started on the right path to managing their online identity and authority within the local areas they serve."
The statistics point to the opportunities that exist for businesses trying to reach a local audience online for their service business or their 'bricks and mortar' store. According to Google, 97% of consumers search for local businesses online. A TMP/comScore study a couple of years ago reported 61% of local searches result in purchases. Among commercial online searches, another comScore study revealed 90% of these searches result in offline 'bricks and mortar" in-store purchases. And concerning the steady growth of smartphone use, the February 2012 comScore and Localeze/15miles joint study revealed 61% of smartphone users make local searches from their device and 49% of mobile and tablet users conduct local business searches on apps. The opportunities exist but many small businesses just don't know how to tap into them.
AIMG's 'Search Visibility Rescue Program' combines online visibility benchmarking, web analytics and consistency management techniques for directory and social media listing and review sites to correct or establish an online identity so that the business is accurately listed and easily identifiable to the local areas served. The solution also provides the small business client with actionable insight and recommendations including how to leverage social media and pay-per-click campaigns to generate visibility and sales. As an incentive to get started right away, small businesses who sign up by July 4th will receive a free hour of consultation to ask questions or discuss any marketing concerns they may have.
For further information about AIMG's new local search marketing 'Search Visibility Rescue Program' visit http://www.aimg.com/Small-Business-Solutions/Search-Visibility-Rescue-Program/ or call 1-704-321-1234.
About AIMG | Accurate Imaging
AIMG | Accurate Imaging is a full service global marketing and business development agency offering website design, search engine optimization, pay per click management, social media marketing, custom application development, consulting for business, publicity, and design and management services for multi-channel initiatives including online, print, event, commercial video production, and broadcast radio and television. AIMG's divisions include Enterprise, Small Business, Industrial Web Solutions, and NOA for non-profits. Visit http://www.aimg.com or call (704) 321-1234.
About Joe DeMicco
Joe DeMicco has been an online and marketing consultant for almost 20 years. He started his flagship company AIMG | Accurate Imaging in 1994, which has since grown to include several specialized divisions including Industrial Web Solutions, Small Business Solutions, Enterprise Solutions, and NOA for Non-Profits. He has worked as a consultant and produced content for companies like BMW, Discovery Communications, Publicis, Excite Media Group, IDT, Robotic Industries Association, Automated Imaging Association, Hose-McCann Communications, THANC Foundation, and Foundation Fighting Blindness. In 2009 he launched IndustrialWebSearch.com, the first industrial search engine based on content tagging. His DeMicco.com blog offers business development tips.
###