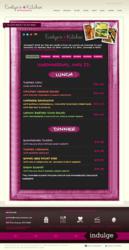 The café board works effectively to nurture and reinforce the Evelyns-Kitchen café atmosphere as well as a sense of fun."
Charlotte, NC (PRWEB) May 31, 2012
Offering the perfect balance between function and fun, marketing firm AIMG developed a custom café board application for Evelyns-Kitchen.com that provides the client with an easy way to update to its daily menu specials or event announcements in real-time on their website.
"Maintaining the spirit as well as the overall look and feel of a client's website," said Joe DeMicco, Founder & CEO of AIMG, "is part of our approach in the development of custom applications designed to perform the specific tasks or functions outlined by the client. The café board we developed for Evelyns-Kitchen.com not only provides the client with an easy-to-use tool to display menu specials and announcements but it creates the live café experience for site visitors, using a display tool – the café board – with which they would be familiar. It works effectively to nurture and reinforce the Evelyns-Kitchen café atmosphere as well as a sense of fun."
Allowing the client to update each day individually, the custom café board application designed by AIMG is set to display both the current day's menu selections or events and those of the upcoming week. The built-in copy editor makes it easy to add and edit the information they wish to display publicly. Once the message has been created, the client simply clicks Add to post it live to the site within seconds.
"We love the new café board application," said Evelyns-Kitchen.com chef and owner Ayala Donchin. "AIMG did a great job with the design and development. It's easy to use and it fits perfectly with the website."
Evelyn's Kitchen is located at 2317 First Avenue, New York, NY 10035. Call 1-646-476-7906 or visit it online at http://www.Evelyns-Kitchen.com.
For information about AIMG's custom application development and strategic marketing services visit http://www.aimg.com or call 1-704-321-1234.
About AIMG | Accurate Imaging
AIMG | Accurate Imaging is a full service marketing, web development and search engine optimization (seo) agency, headquartered in Charlotte, NC, that serves clients in the United States, Canada and Europe. It offers website design, search engine optimization, custom application development, consulting for business development and marketing services. AIMG's divisions include Enterprise Business Solutions, Small Business Marketing, Strategic Local Marketing, Industrial Sector Marketing, Medical Marketing, and its NOA Marketing Division specializing in the needs of non-profits, organizations and associations. Visit http://www.aimg.com or call 1-704-321-1234.
About Joe DeMicco
Joe DeMicco has been an online and marketing consultant for almost 20 years. He started his flagship company AIMG | Accurate Imaging in 1994. He has worked as a consultant and produced solutions for companies like BMW, Discovery Communications, Publicis, Thomas Register (ThomasNet), Net2Phone, Robotic Industries Association, Automated Imaging Association, Hose-McCann Communications, E-Z-EM (now Bracco Imaging), and Excite Media Group. In 2007 he established Industrial Web Solutions, which specializes in online and offline solutions for industrial manufacturers. His blog DeMicco.com offers business development tips.