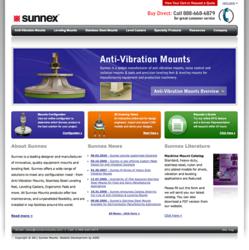 The site is built on a flexible architecture which simplifies expansion.
Charlotte, NC (PRWEB) May 31, 2012
AIMG │ Accurate Imaging developed a custom branded content management system website application for SunnexMounts.com, a leading manufacturer and supplier of leveling feet, machine mounts and pads, as well as casters for furniture and equipment.
"The custom content management system website we designed for SunnexMounts.com," said Joe DeMicco, Founder & CEO of AIMG. "is designed to help the client's customers not only learn about the specific leveling, vibration, noise control, and mobility products available from Sunnex, but to select the ones that are right for their specific application."
Designed to maximize conversion, the site makes it easy to find parts information and offers an easy to read tabular layout for parts in a particular family. Products selected can be conveniently added to the integrated shopping cart tool and submitted online for a request for quote.
"The site is built on a flexible architecture," said DeMicco, "which simplifies expansion, including the integration of added functionality or even a full-blown ecommerce solution that would allow for online purchases. For this phase of development, the focus is on expanding the brand online and maximizing conversion."
For information about AIMG's web development and strategic marketing services visit http://www.aimg.com or call 1-704-321-1234.
About AIMG | Accurate Imaging
AIMG | Accurate Imaging is a full service marketing, web development and search engine optimization (seo) agency, headquartered in Charlotte, NC, that serves clients in the United States, Canada and Europe. It offers website design, search engine optimization, custom application development, consulting for business development and marketing services. AIMG's divisions include Enterprise Business Solutions, Small Business Marketing, Strategic Local Marketing, Industrial Sector Marketing, Medical Marketing, and its NOA Marketing Division specializing in the needs of non-profits, organizations and associations. Visit http://www.aimg.com or call 1-704-321-1234.
About Sunnex, Inc. (SunnexMounts.com)
Sunnex is a global manufacturer of precision leveling feet, leveling mounts, anti vibration mounts, noise control and isolation mounts and pads for manufacturing equipment and production machinery, as well as casters for furniture and equipment. Sunnex products are manufactured using quality materials such as stainless steel, high-grade nylon polymer, and nitrile rubber. Headquartered in Charlotte, NC, Sunnex has sales and service representatives located worldwide. For more information, visit http://www.sunnexmounts.com or call 1-888-668-6879.