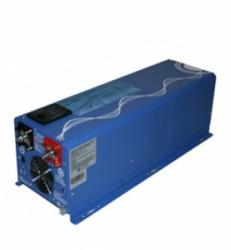 "It's hard to find a 4000 watt inverter charger you can get at 12 volts," Mark Plummer, InverterSupply.com
Reno, NV (PRWEB) May 10, 2013
It's RV season, and between singing birds, a slight breeze and the many serene sounds of wilderness — the sound of a generator, though necessary at times, can be a burden.
This month AIMS Power launched two new inverter models — the 4000 watt 12 volt and 24 volt pure sine power inverter chargers — which solve this noise problem so campers everywhere can enjoy the comforts of home from an RV or boat in peace and quiet.
"It's hard to find a 4000 watt inverter charger you can get at 12 volts, usually you have to jump up to 24 volts so it's nice to have that 12 volt capability with the 4000 watts so you can utilize your car's standard charging system," founder and CEO of InverterSupply.com Mark Plummer said.
This 12 volt option allows users to go mobile and charge the inverter off a truck or vehicle while driving without having to modify the car to a 24-volt system. However, the car does not have to be running to use the inverter as long as your auxiliary battery bank is charged. When the car's parked in the garage after work, the system can be plugged into an outlet at home and batteries will be charged up for the next morning if needed.
It's also a good tool for someone's home if enjoying the benefits of living off the grid. The product allows customers to feel even more "away from it all" by helping decrease the use of a loud generator.
There are other products on the market that comparably clean up this generator noise pollution, but this new AIMS inverter provides customers with a cheaper price and more flexibility than similar products offered by Magnum, Outback and Xantrex Freedom.
No other product offers a transformer strong enough to earn a 300% surge rating capable of withstanding 12,000 watts for 20 seconds, which means powering up a standard RV or boat air conditioner is no problem. The heavy-duty transformer makes this inverter one of the toughest and most reliable on the market today.
The conformal coating feature on this inverter's internal circuit boards protects them from water vapor, condensation (making the product marine grade) and dust that could otherwise be damaging. It's another reason why these inverters are the best available.
These units also have the capacity to handle significant voltage fluctuation (90-135 VAC) making it compatible with the AC output of most generators.
The products also feature a sleep mode that minimizes the amount of power wasted during standby and provides convenience by automatically turning on (within 30 seconds) when you start using more than 24 watts. This, for example, means users don't have to fumble around to turn on their inverter at night before they switch on a light to use the restroom or investigate a suspicious noise.
The big difference is that no matter what the circumstance, AIMS customers won't be that person who has to keep their generator running all night.
Since 2001, AIMS Power has been an industry leader in selling power inverters, solar power solutions and accessories to consumers and retailers across the globe. Our inverters are the most trusted on the market today for converting power from Direct Current (DC) to Alternating Current (AC), and our solar panels compete with the best. Together our inverters, solar panels and accessories create the most reliable and efficient power systems available in the world.
AIMS Power carries inverters from 75 watts to 12,000 watts in 12, 24, and 48 volt versions, meaning we have an inverter that's perfect for any application you can think of whether it's industrial, commercial, consumer, residential, or mobile.
Our technical support team helps customers distinguish differences between our modified sine wave inverters and pure sine wave inverters to ensure that you get the right product for the job at hand. In addition, we have a full line of power inverters with built in chargers and transfer switches. Plus, AIMS Power sells all the extras you'll need to fully complete your off grid power system including batteries, charge controllers, cables, controllers and more.
We encourage inverter use in green energy applications as a priority for AIMS Power, and we've developed a stand-alone solar generator that will perpetuate these efforts.