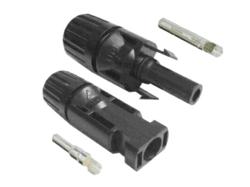 These new MC4 connectors and MC4 tools will bring AIMS Power another step closer to a one stop solar solution
Reno, NV (PRWEB) May 24, 2012
AIMS Power this week announced a new line MC4 connectors and MC4 connection unlock and assembly tools. These new parts will be in addition to the full line of power inverters and solar panels already available from AIMS Power. Most resellers are not offering these parts and many people have a difficult time finding them. AIMS Power will carry these parts, along with all of the other power inverters, grid tie inverters and solar panels, they currently stock in the US.
Multi-Contact (MC) cables are used in solar arrays to carry DC voltage from the solar panels to the inverter(s). These connectors commonly known as MC4 connectors are needed to make reliable and safe connections in a PV system. AIMS Power will offer these connectors with PV wire, and will supply these parts assembled or in bulk.
MC4 connectors are an essential part of an on-grid or off-grid solar system. AIMS Power has been working toward offering a complete solution for solar PV systems. "These new MC4 connectors and MC4 tools will bring AIMS Power another step closer to a one stop solar solution," Bruce De Jong, President of AIMS Power.
About AIMS Power Inc.
AIMS Power Inc., headquartered in Reno, Nevada, offers a complete line of dc to ac power inverters. AIMS Power Inc. delivers industry leading products in both pure sine wave and modified sine wave, including 12 volt inverters, 24 volt inverters, 48 volts inverters, inverter chargers and low frequency inverters. AIMS power inverters are used around the globe in many different applications including mobile businesses, off-grid power systems, emergency back-up power systems and sump pump backup systems. In addition AIMS power inverters can be used in work trucks, fleet vans, luxury motor coaches, charter buses, conversion vans, rescue and fire vehicles, RV's and boats. AIMS Power Inc. also offers solar charge controllers, KACO Blue Planet inverters and solar panels in 12 volts and 24 volts. Established in 2001, AIMS Power Inc.