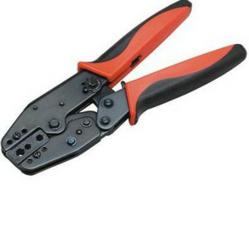 Another Great addition to the AIMS Power inverter and solar product line.
Reno, Nevada (PRWEB) May 23, 2012
AIMS Power US based supplier of power inverters and solar panels, will be adding a new PV wire crimping tool to their solar product offering. The new AIMS Power PV wire crimping tool is sure to be a big hit with installers and consumers. AIMS Power has launched several new solar products this month, with more on the horizon.
The new AIMS Power PV wire crimping tool will make it easy to fabricate cables on-site. This tool is used to crimp "multi contact connectors" known more commonly as "MC" connectors. These MC connectors are used in the DC portion of a solar array to bring the power to the solar inverter.
Today, you mostly see MC4 connectors being deployed during installation of a solar power system. AIMS Power produces ready-made PV wire with the MC4 connectors in place. But occasionally a change needs to be made on site. This new tool gives the installer the ability to make changes on site. The new AIMS Power crimping tool will be able to crimp 10, 12, and 14 AWG wire, making them flexible for any size PV install.
About AIMS Power Inc.
AIMS Power Inc., headquartered in Reno, Nevada, offers a complete line of dc to ac power inverters. AIMS Power Inc. delivers industry leading products in both pure sine wave and modified sine wave, including 12 volt inverters, 24 volt inverters, 48 volts inverters, inverter chargers and low frequency inverters. AIMS power inverters are used around the globe in many different applications including mobile businesses, off-grid power systems, emergency back-up power systems and sump pump backup systems. In addition AIMS power inverters can be used in work trucks, fleet vans, luxury motor coaches, charter buses, conversion vans, rescue and fire vehicles, RV's and boats. AIMS Power Inc. also offers solar charge controllers, Kaco Blue Planet inverters, PV wire, PV wire crimping tools, MC4 connectors and solar panels in 12 volts and 24 volts. Established in 2001, AIMS Power Inc.