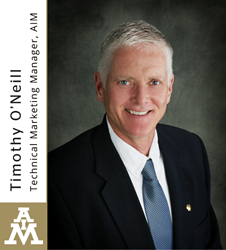 CRANSTON, R.I. USA (PRWEB) November 01, 2018
AIM Solder, a leading global manufacturer of solder assembly materials for the electronics industry, is pleased to announce that Timothy O'Neill, Technical Marketing Manager, will present the white paper "Conformal Coating Over No Clean Flux" at SMTA Guadalajara, scheduled to take place on November 14-15, 2018 at Expo Guadalajara in Guadalajara, Jalisco, Mexico. AIM will also highlight its full line of advanced solder materials, including its high reliability alloys, solder paste, liquid flux and solder alloys.
The use of conformal coating to improve reliability characteristics of PCB is expanding. Electronics are being used in application environments that were only recently considered too harsh for the reliable function of PCB's. Combine this fact with the widespread use of no clean fluxes and material compatibility issues arise. In this study, various coating materials were tested with different chemistries of no clean fluxes. Results demonstrate possible combinations meeting the mission profile of the assembly with consideration for the assemblers' capabilities and cost objectives.
AIM is celebrating its 20th anniversary at AIM Soldadura de Mexico. AIM opened this facility in 1998 to support Mexico's growing assembly industry. Since then, AIM Soldadura de Mexico has grown into one of the largest and most prestigious solder manufacturers in Mexico. To discover all of AIM's products and services, visit the company at booth number 46 or on their website http://www.aimsolder.com.
About Timothy O'Neill
Timothy O'Neill is the Technical Marketing Manager for AIM Solder. With nearly 25 years of experience in electronics soldering, Mr. O'Neill has co-authored several papers on PCB assembly subjects. He is a Certified IPC Specialist, a technical writer and presenter for industry trade publications and events. His commitment and dedication to sharing innovative solutions to challenging problems in the electronics assembly market have earned him recognition from the SMTA as Speaker of Distinction.
About AIM
Headquartered in Montreal, Canada, AIM Solder is a leading global manufacturer of assembly materials for the electronics industry with manufacturing, distribution and support facilities located throughout the world. AIM produces advanced solder products such as solder paste, liquid flux, cored wire, bar solder, epoxies, lead-free and halogen-free solder products, and specialty alloys such as indium and gold for a broad range of industries. A recipient of many prestigious SMT industry awards, AIM is strongly committed to innovative research and development of product and process improvement as well as providing customers with superior technical support, service and training. For more information about AIM, visit http://www.aimsolder.com.