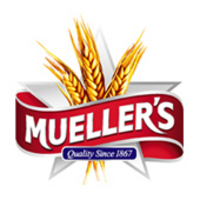 Pasta is the perfect dinner option to cut grocery costs and improve dinner choices for the family
Kansas City, MO (PRWEB) February 12, 2009
As the nation's new president prepares to tackle our daunting economic challenges, Mueller's pasta introduces a stimulus plan designed to help moms conquer home economics called pasta-nomics.
"Pasta is the perfect dinner option to cut grocery costs and improve dinner choices for the family," says Pat Regan, Senior Vice President for Mueller's Pasta. "We've put together creative recipes and coupons to provide families with a number of affordable and appetizing meal options."
Recent studies show that pasta category sales are up. In fact, pasta has become a staple of the American dinner table this year thanks to its versatility, affordability and, most important, classic great taste.
Pasta-nomics makes sense. The average cost of a fast-food dinner for a family of four weighs in at over $20; however, feeding the same family a pasta dinner costs about $5. Grocery shoppers -- especially moms -- are now looking for more ways to incorporate this affordable food into their weekly menus.
Mueller's suggests following a three-point plan to save with the savory pasta supper. First, give your pasta dishes a new look. Pasta gives families numerous options for meals with all different pasta shapes that can be served in soups, salads, and traditional pasta dishes. Second, consider "pasta parties." Dish up pasta on a special occasion for friends and family as a time saving and cost-effective alternative to traditional party dishes. Last, capitalize on pasta's convenience, a food that can be made in a little over the time it takes to boil water. For inspiring recipes and coupons, visit pastavalue.com.
Debbie Wahl, nationally renowned food consultant commented, "Families are searching for inspirational recipes while also being mindful of their pocketbooks. Pasta is so simple yet versatile -- think Italian, Thai and regional American. When I cook for my children and grandson -- what food do they request? Pasta!"
Regan thinks it's more than just the struggling economy behind this recent category growth. He mentioned, "Pasta has always been a great food value for the family, and I think the economy has simply helped people rediscover that fact."
###