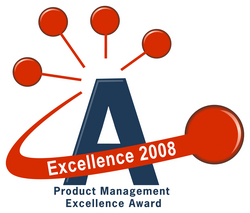 Accept Software led the pack of competitors this year and continues to improve on an already great product
Fremont, CA (PRWEB) May 7, 2008
Accept Software, the expert in integrated innovation management solutions, today announced that it has won its third consecutive Excellence in Product Management Award, sponsored by the Association of International Product Marketing and Management (AIPMM). AIPMM, the world's largest professional organization for product executives and managers, recognized Accept for the company's unique and comprehensive innovation management application suite, as well as its contribution to the advancement of the disciplines of innovation and product management. Accept was previously awarded the Excellence in Product Management Award in 2006 and 2007.
"Companies that can master the innovation process and make it central to the way they do business are better equipped to deliver what their market wants and needs," said Bryan Plug, president and CEO of Accept. "They can capture the voice of the market and align that insight with corporate strategy and resources to hit critical windows of opportunity and outperform their competitors. We are extremely gratified to be recognized once again for our leadership and vision in promoting and driving innovation."
"Accept Software led the pack of competitors this year and continues to improve on an already great product," said Therese Padilla, President of AIPMM. "Accept has repeatedly been differentiated by its ability to show the connection between harnessing the power of innovation and increasing new product revenue. We believe that by using Accept, companies can deliver winning products more rapidly and create value for their customers, partners, and shareholders."
Accept: Innovation Management Solutions that Drive Competitive Advantage
Accept provides the first integrated innovation management solution that enables companies to create tomorrow's winning products. Uniquely comprehensive, Accept's Innovation Management Solution combines modular capabilities for ideation, portfolio management, and product development with the best practices that drive innovation and market leadership, enabling companies to:

Deliver what their market wants and needs by capturing the voice of the market on an ongoing, iterative basis
Achieve better alignment from strategy through launch by tying top-down corporate strategies and market insight with bottom-up requirements, budgets, and resources
Drive competitive advantage by honing in on specific products and features that create market advantage
Gain superior visibility and control for line of business executives, product executives, and product development teams.
Improve productivity, collaboration, and time-to-market by having all information in a single system of record.
About Accept
Accept helps companies create tomorrow's winning products and drive sustained competitive advantage. Forward-thinking businesses increase new product revenue, drive competitive advantage, maximize R&D investment, and improve productivity with Accept's award-winning Innovation Management Solution. Uniquely comprehensive, Accept conceived of and delivered the first solution to combine innovation business processes and a single system of record with the voice-of-the market, portfolio and product planning and management, enterprise reporting, and role-based dashboards. With Accept, companies gain visibility and control, align corporate and product strategies with market needs and successfully execute strategies and plans. Accept Software was recognized by the Association of International Product Marketing and Management (AIPMM) in 2006, 2007, and 2008 with the Excellence in Product Management Award. Accept's growing customer base includes BEA Systems, Cadence Design Systems, Galileo, and Hewlett-Packard. For more information, visit http://www.acceptsoftware.com
# # #