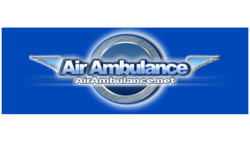 We contract with a lot of different government entities, including the marshal service.
Miami Beach, FL (PRWEB) May 25, 2012
Air ambulance services can include flying outside the United States as well as within the country. The main advantage of an air ambulance is that it can be used specifically for one person, allowing fast and reliable transportation to a larger, distant hospital.
Air Ambulance America, LLC, has years of experience and staff that are experts in air ambulance transport. They work with social workers and case managers in hospitals all over the United States on a regular basis. Their clients are at different life stages and most of their efforts are put into arranging safe and expert care while transporting their patients in the shortest amount of time.
SEO Miracle is one of the leading SEO companies in the United States serving clients from different areas of expertise. Today SEO Miracle decided to accept the Air Ambulance America's offer to help in promoting another service of theirs which is called Mexican repatriation.
The offer includes safe transport for patients traveling from and to Mexico, and who want to use fast and reliable air ambulance charter.
One of the leaders of Air Ambulance America explained, "Individuals who are traveling to Mexico can be sent in a private aircraft or an air ambulance, if in need of an urgent medical care. We contract with a lot of different government entities, including the marshal service. By this, we mean that we can also arrange an aircraft for any inmate with or without medical conditions that needs to be repatriated to Mexico and a range of other countries."
Air Ambulance America is not limited to making deals with people who require an air ambulance charter only, but is able to provide fast and secure trip back to the United States for all people whether they are visiting their family in Mexico, being on a business trip or simply being on a vacation.
Air Ambulance America delivers affordable, safe and dependable medical air transport and non-emergency and emergency transport in the United States and worldwide. If you would like to know more about requesting an air ambulance charter, visit Air Ambulance America's website http://www.airambulance.net or call their phone number at 305-868-5378.