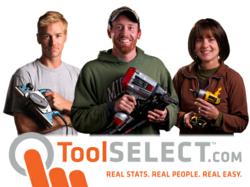 An air compressor and a collection of pneumatic nailers are essential to anyone taking on finishing work
Grand Rapids, MI (PRWEB) May 08, 2012
Air compressors are always a lively topic of discussion within the ToolSelect.com community, and that is sure to increase with the release of the Senco air compressor and three-tool combo kit.
The kit includes an oil-free pancake air compressor with ¼" x 25' air hose, FinishPro 35 angled finish nailer, FinishPro 18 brad nailer, SLS18 stapler and storage bag, and comes with a one-year limited warranty.
"An air compressor and a collection of pneumatic nailers are essential to anyone taking on finishing work," says Tom Klein, vice president of marketing and merchandising for ToolSelect. "That can get expensive when buying tools one by one. We've seen combo kits from other brands, but this is the first time Senco has done it, and we can't wait to see what our community has to say about these tools."
The six-gallon air compressor has a maximum rating of 155 psi and can generate up to 2.8 scfm at 90 psi. The finish nailer drives 1 ¼" to 2 ½" 15 ga. nails with a 104-fastener capacity. The brad nailer is designed for 5/8" to 2" 18 ga. brad nails with a 110-fastener capacity. The stapler drives ¼" crown 18 ga. wire 1 ½" staples and also has a 110-fastener capacity.
About ToolSelect
ToolSelect is an unbiased community powered by its members that covers all aspects, types and brands of tools, but does not actually sell any tools. ToolSelect's members include everyone from experienced tradesmen to complete novices. Users trade tips, compare notes, debate their favorite tools and work together to help each other make intelligent purchasing decisions.
Like ToolSelect on Facebook (ToolSelect)
Subscribe to ToolSelect on YouTube (toolselecttv)
Follow ToolSelect on Twitter (toolselectmedia)