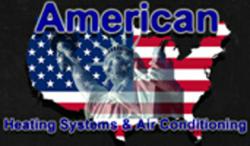 Before work begins, the installation process will be explained to you
San Francisco, CA (PRWEB) January 04, 2012
San Francisco's American Heating Systems and Air Conditioning is now offering a New Year's Special on furnace or water heater installations. Keep any home warm this new year with $300 off any brand furnace installation and $200 off any brand water heater installation.
"Before work begins, the installation process will be explained to you. During installation, American Heating & Air Conditioning Systems is very respectful of your home and takes the utmost care to keep it clean through the use of drop cloths, shoe covers and after-installation cleaning," Renato Carrasquedo of American Heating Systems and Air Conditioning said.
The special also includes $1,425 for a Bryant or Payne system with 45,000 to 100,000 BTUs and 80-percent efficiency furnace replacement that includes a programmable thermostat.
For existing furnaces, receive a tune-up for only $70. A furnace tune-up includes cleaning the existing filter, testing the duct system for carbon monoxide, testing for natural gas leaks, testing control and safety circuits, testing the exhaust system, testing the ignition system, measuring temperature differences, inspecting and adjusting the fan belt, inspecting for combustible material around the furnace, inspecting the heat exchanger for cracks and wear, and vacuuming, cleaning and brushing heat exchangers.
San Francisco furnace repair company, American Heating Systems solely exists to become the prime heating and air conditioning company in the San Francisco area. Customer service is not a corporate buzzword, it is the basis for American Heating Systems' existence. The company strives to ensure every contact with a customer is efficient and pleasant.
For more information about any of American Heating Systems and Air Conditioning's products or services, call 650-416-1363, view the company on the web at http://www.airconditioningsanfranciscoca.com or visit 528 Poplar Ave. S., San Francisco, CA 94080.
About American Heating Systems and Air Conditioning
With the desire to return to the quality of the past, Renato Carrasquedo founded American Heating Systems and Air Conditioning. Carrasquedo is a state-licensed technician who uses state-of-the-art technology to repair and diagnose existing systems, using only the finest new equipment for installations. It is the job of the company to ensure each customer receives an objective opinion and reliable quotes before any work is performed. Its highly trained technicians provide furnace repairs and other services with a smile.
###