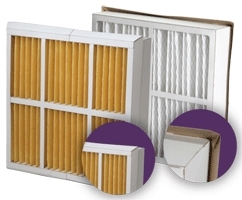 return air grille filters in quality ratings of MERV 8, MERV 11, and
Rochester, IN (PRWEB) January 7, 2009
Online replacement air filter supplier, FilterHut.com, has announced the launch of 5" return air grille filters designed to fit in place of the standard 1" air filters. The advantage of these new filters is in the increased surface area.
According to Dwight Dunwoody of FilterHut.com, this increased material reduces pressure drop while increasing service life, enabling these 5" air filters to last much longer and save considerable energy. "Simply stated, more material means more area, which means less pressure, which means less work for the air system," added Dunwoody.
The air filters utilize a unique knife edge seal header to provide a tight seal and prevent air bypass. They fit with no modification in most 1" residential wall or ceiling mount return grilles. Dunwoody states that these air filters can last 6 months to a year in most home installations.
FilterHut.com offers their replacement 5" return air grille filters in quality ratings of MERV 8, MERV 11, and "green" LEED-compliant MERV 13, which determines a filters ability to remove particles from the air. The air filters are carried in most of the standard air grille sizes.
FilterHut.com also offers air cleaner and standard furnace filters, and plans to continue to expand its lineup. "Especially in these times, it's exciting to flip the switch on a product that is good for your health, the environment, and your wallet," said Dunwoody. "As we continue to grow, we'll continue to explore more products to fit this simple model."
For additional information on the replacement 5" return air grille filters, including installation videos, visit http://www.filterhut.com.
About FilterHut.com:
FilterHut.com is a supplier of replacement air filters for residential and commercial applications, offering HVAC, air cleaner, and furnace filters in a wide range of sizes and ratings.
Contact:
Dwight Dunwoody, director of public relations
FilterHut.com
###