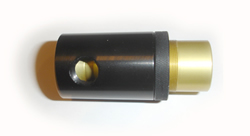 Toronto, Ontario (PRWEB) June 23, 2014
The New Nex Flow™ Model 45004 FAT Air Jet Air Amplifier is based on the same superior design of existing smaller versions.
The air jets use a small amount of compressed air and entrain surrounding air to amplify Air Flow downstream reducing compressed air use for blow off and cooling applications as well as part ejection due to the high concentrated force. They move a tremendous amount of air utilizing the "Coanda" effect.
The Coanda profile used is unique to Nex Flow™ and optimizes the flow and force to make the Nex Flow™ Air Jets up to 25% more efficient than competitive units. The downstream air produced has high velocity and "laminar flow" for strong blow-off and cleaning power.
The high flow also does excellent cooling. The Nex Flow™ Model 45004 FAT Air Jet Air Amplifier is ideal especially for drying and cooling small parts and is adjustable to "set" the right force or flow required for any particular application. A lock ring keeps the desired "set gap" in place.
Advantages:
No Moving Parts
Quiet
Compact
Portable
No Electricity
Low in Cost
Superior in Design and Performance