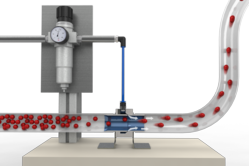 Toronto (PRWEB) November 14, 2011
The extra powerful Heavy Duty X-Stream™ Ring Vac™ from Nex Flow™ is designed for conveying materials over a longer distance both vertically and horizontally than the standard Ring Vac™ systems. Made of hard anodized aluminum, it helps prevent premature wear that could occur with either an ordinary anodized aluminum or stainless steel Ring Vac™.
The Heavy Duty X-Stream™ Ring Vac™ has no moving parts, utilizing compressed air for a powerful, efficient venture action along its length in a compact design for high capacity conveying over large distances.
The Heavy Duty X-Stream™ Ring Vac™ is available in a regular version whereby you clamp a hose to each end or in a threaded version where you can attach threaded piping to each end. Operation is virtually maintenance free as no moving parts. Capacity and flow is easily controlled using a pressure regulator.
Available in four sizes:
1" (25 mm)
1-1/4" (32 mm)
1-1/2" (38 mm)
2" (51 mm)
###