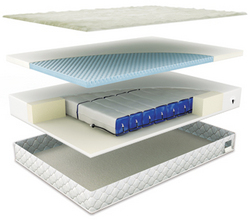 Noise may prevent people from falling into deep sleep, which is essential for everyone.
Hoosick Falls, NY (PRWEB) May 11, 2010
Natural Form's air mattresses – now motor-free and pump-free – provide solid, long-lasting, silent support by use of patented self-adjusting technology. A major component of healthy and restful sleep is uninterrupted sleep in a quiet environment.
Natural Form's self-adjusting mattress operates without a motor or air pump, utilizing an inaudible patented air suspension system with an intake/release valves system as its power source. Unlike other air mattresses, which are constructed with a noisy pump and motor, the Natural Form mattress makes no sound at all, ensuring silence and an optimum sleep environment.
The self-adjusting, motor-free Natural Form technology provides pressure relief to match individual sleep needs. And the Natural Form Sleep System is error-free – there is no need to worry about mechanical problems or the use of electricity. This system was created to offer peace of mind and to ensure outstanding pressure relief using technologies such as:

Patented air valves – This unique element provides perfect, full-body support through independent air cylinders. Each cylinder adjusts silently to movements throughout the night, creating a vacuum by atmospheric pressure, thereby reducing pressure over entire body.
Industrial polyurethane air cylinders – To ensure the longevity of Natural Form's motor-free, self-adjusting sleep system, these industrial-strength air cylinders are radio frequency sealed, making them 10 times stronger than vulcanized rubber or vinyl.
Dual adjustable comfort control dial – Each side of the Natural Form motor-free mattress has a comfort dial to control the amount of air that passes through the patented valves on either side of the mattress. This allows to easily adjust the mattress for a desired level of softness or firmness from night to night.
Noise may prevent people from falling into deep sleep, which is essential for everyone. The patented technology of the Natural Form Sleep System motor-free air mattress guarantees a quiet sleep and comfortable rest all night long.
For additional information or any questions about the Natural Form Sleep System, write to David Tilley at david "at" naturalform "dot" "com," visit http://www.naturalform.com or call 1-888-524-0985.
About WCW, Inc.
WCW Inc., based in Hoosick Falls, NY, is a world leader in developing and manufacturing pressure relieving medical, hospitality and consumer sleep systems. Holder of 13 patents, The company's NaturalForm Sleep System is used by Hilton Garden Inn Hotels, sleep clinics, professional athletes, and by thousands of individuals looking for the optimum night's sleep. WCW's products have been highlighted in the Wall Street Journal, USA Today, The Today Show, Extreme Home Makeover, and more. For more information about NaturalForm's mattresses visit http://www.naturalform.com or call 1-888-524-0985.
###