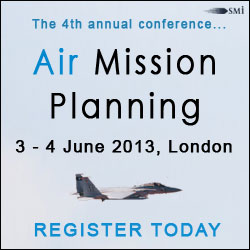 London, UK (PRWEB UK) 28 May 2013
29th May 2013: The 4th annual Air Mission Planning conference takes place in one week's time. There is only two weeks until the 4th annual Air Mission Planning conference. This two day event will provide the forum to assess and analyse the latest reports of air missions in Libya and Afghanistan from experts currently operating within environments such as aircraft carriers, rotary and fixed-wing squadrons.
Air operations underpin the success of modern conflicts. Control of airspace dictates the ability to dominate battlespace; and with increasingly technological avionics and a high prevalence for joint and coalition operations, the necessity for accurate, dynamic and interoperable mission planning has never been higher.
Registrations have been coming in thick and fast and with only a few places remaining, those interested are recommended to register today at http://www.airmissionplanning.co.uk.
Confirmed attendees include: Australian Defence Air Force, Austrian MoD, BAE Systems, Canadian MoD, French Navy, UK Joint Helicopter Command, MBDA, NATO, Pilatus Aircraft, Royal Navy, Saab, Swiss Air Force, Thales, Turkish Air War College, US Navy plus many more.
Hear from our exceptional speaker line-up:

Richard Leakey, Comd Avn Recce Force, Joint Helicopter Command
Phillip Rennison, CF-18 Mission Planning Manager, Royal Canadian Air Force
Diego Ruiz Palmer, Head, Economics and Security Assessment Unit, NATO HQ
Neale Dewar, Director, UK National Air Defence & Space Control Operations, RAF
Neil Sierens, DFC (former AAC), Aviation and Defence Consultant, Yorvik Aviation
Frederik Lindvall, Deputy Research Director, FOI Swedish Defence Research Agency
For those wishing to attend, you can register online at http://www.airmissionplanning.co.uk or alternatively contact Cem Tuna for more information on: +44 (0) 207 827 6736 or email ctuna(at)smi-online(dot)co(dot)uk.
About SMi Group
The SMi Group is a highly professional, independent and global event-production company that specializes in Business-to-Business Conferences, Workshops and Masterclasses, and online Communities. The SMi Group creates and delivers events in the Defence, Security, Energy, Utilities, Finance and Pharmaceutical industries. For more information, please visit http://www.smi-online.co.uk.