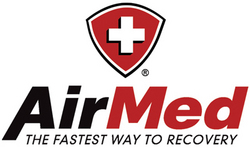 Birmingham, AL (PRWEB) January 18, 2009
AirMed International, the country's leading air ambulance company, has partnered with Navigate Health International, an international medical coordination services provider based in Italy. Navigate's members are now able to purchase AirMed membership plans at reduced prices. Navigate's Medical Director, Kevin M. Ban, MD, will also serve as a medical consultant for selected AirMed missions originating in Italy.
Navigate Health International offers concierge-level medical coordination services to internationals living in or visiting Italy. Navigate's doctors work within the Italian system, speak the language, and understand Italian medical culture and practices. In addition, their team of doctors is led by an American physician, board-certified in the US, and a member of Harvard Medical School's teaching faculty. Navigate knows the Italian system well, knows the expectations and demands of its international clients, and is able to guide them through the system and into good health. http://www.navigate-italy.com
About the air ambulance company AirMed International
AirMed International is the country's leading air ambulance service, offering unparalleled medical care and bedside-to-bedside transportation on a worldwide basis. Chosen as exclusive air medical transport for the world-famous Mayo Clinic as well as a preferred carrier for the U.S. Department of Defense, AirMed is CAMTS accredited and operates a fleet of 12 fully customized, fixed-wing aircraft, including the largest medical jet in the U.S., the Hawker 800. AirMed's five strategic bases of operations in Alabama, Hawaii, Minnesota, Ohio, and internationally in Hong Kong, provide advantageous geographic coverage and rapid dispatch. AirMed has flown over 14,000 missions to more than 150 countries and routinely provides service to Fortune 500 companies, top hospitals and global assistance companies. For more information, visit http://www.airmed.com or call 205-443-4840.
###