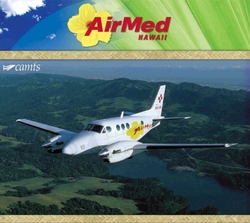 Honolulu, HI (PRWEB) July 19, 2009
AirMed Hawaii announced plans to expand its services within the state of Hawaii. AirMed will add two additional aircraft to its fleet based in Honolulu, including a long-range jet and a fourth interisland short range aircraft. The additions will bring the AirMed Hawaii fleet to a total of five aircraft.
The long-range aircraft will be used for urgent transports to the mainland in an effort to serve the transport needs of island hospitals, including Kapiolani Medical Center for Women and Children. AirMed is the exclusive medical transport for Kapiolani Pediatric and Neonatal teams. A fourth King Air C-90, short range turbo-prop will also be added to the existing fleet. All of AirMed's aircraft are permanently configured medical planes. Both of the new additions are currently being outfitted at AirMed Hawaii's parent company facility in Birmingham, Alabama, and expected to be delivered for service within the next 30-45 days.
AirMed has been based in Honolulu since 2006 with a fleet of aircraft flying regularly to all neighbor islands for emergency and other medical transports. In late 2008, AirMed stationed one of its King Air C-90 aircraft with a medical flight crew at Hilo International Airport to provide transports for patients of Hilo Medical Center and other Big Island hospitals.
About the Hawaii air ambulance AirMed Hawaii
AirMed is Hawaii's only accredited air ambulance service, providing medical transportation between islands on a 24/7 basis. Dedicated to the highest quality of medical transportation, patient care and flight safety, AirMed is the only service of its kind in Hawaii that flies with two pilots on every mission and is the exclusive air transport for Kapiolani Pediatric and Neonatal Teams. AirMed Hawaii's parent company is AirMed International, a U.S. Department of Defense approved carrier and the most respected air ambulance company in the industry, and was named Air Ambulance Provider of the Year two years in a row, 2007 and 2008, by the International Travel Insurance Journal. For more information about AirMed Hawaii, visit our website.
###