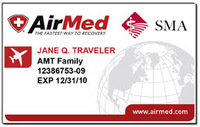 Physicians know best the importance of getting back home to world-class care if they are seriously injured away from home.
Birmingham, AL (PRWEB) April 26, 2010
AirMed International (airmed.com), the country's leading air ambulance company, announced today the endorsement and recommendation of AirMed's membership program by the Southern Medical Association (SMA). With members from across the United States, SMA includes physicians from every specialty, healthcare teams, and their practices.
"My job is to make sure that we offer the best quality product to our members and their families. I am confident that AirMed enables SMA to fulfill that trust. AirMed makes my job very, very easy," said SMA Executive Vice President Ed Waldron.
Professional dues paying SMA members will automatically be enrolled in the AirMed Traveler program, which provides complete air medical transport to the hospital of the member's choice if they are ill or injured while traveling. SMA members will also have the ability to include their family on their AirMed membership at a substantial discount off the annual rate.
"Physicians know best the importance of getting back home to world-class care if they are seriously injured away from home. We are honored that SMA chose to endorse AirMed to its members, consisting of doctors who remain the leading advocates for what an important service like ours can do to save a life," said Jeffrey Tolbert, AirMed International CEO. "It's a testament to the SMA commitment to provide the best benefits available for their members."
About the Air Ambulance Company: AirMed International
AirMed International is the country's leading air ambulance service, offering unparalleled medical care and bedside-to-bedside transportation on a worldwide basis. With state-of-the-art medical jets, AirMed is equipped to pick you up from any hospital around the globe and transport you to the hospital of your choice. Along the way, the most experienced and respected medical team in the air will treat you. AirMed is also on call for you, 24/7, with answers to even the simplest medical questions. And an AirMed membership doesn't cost an arm and a leg. In fact, it could save you one. Membership with AirMed starts for as little as $115. For more information about AirMed International, see our website http://www.airmed.com or call 800-356-2161.
About the Southern Medical Association
Southern Medical Association is an organization committed to promoting the health of patients through physician advocacy and a culture of leadership which enhances professional development. SMA accomplishes this with a balanced portfolio of tangible and intangible products and services, organized to foster Advocacy, Leadership, Quality and Professional Identity. Through a renewed structure of "grass roots" involvement, SMA is fast becoming a vibrant community of physicians with a bias for action in order to meet the difficult challenges of providing medicine today. Find out more about the SMA/AirMed membership benefit at the SMA Website.
###