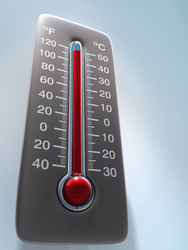 It's never been more financially reasonable and timely to 'go green' with your air conditioner
Phoenix, AZ (PRWEB) April 23, 2009
Chas Roberts Heating and Air Conditioning is informing Arizona homeowners that the recently passed federal stimulus bill (American Recovery and Reinvestment Act of 2009) has made it more affordable for homeowners to replace their air conditioning units with more energy-efficient models - just as the Phoenix area reached over 100 degrees for the first time this year and Tucson won't be far behind.
Homeowners who install qualified central air conditioning units January 1, 2009 through December 31, 2010 may qualify for a tax credit for 30% of the installation costs*, up to $1500*. The stimulus bill also removed the $500 lifetime cap from similar tax credits that were available in 2006 and 2007. Homeowners that claimed tax credits in those years may still be eligible for the full $1500 tax credit for 2009-2010*. In addition, APS customers may also qualify for an additional rebate of up to $400 and Tucson Electric Power Company customers may qualify for rebates of up to $250 for installation of high-efficiency air conditioning systems.
"It's never been more financially reasonable and timely to 'go green' with your air conditioner," says Chas Roberts CEO Roberta Roberts Shank. "These new tax incentives, combined with the early onset of summer temperatures, make this the perfect time for homeowners to consider replacing their air conditioning units."
Replacing a central air conditioning system is a sound financial decision. A more efficient air conditioning unit uses far less energy and can reduce your energy costs by up to 40%*. Combined with the new tax incentives and rebates being offered, it can quickly pay for itself. It's also an investment in restoring the ozone layer, which protects us from solar UV radiation and it's an investment in making the air we breathe cleaner and safer.
Now is the time to take a look at your air conditioner before it gets too hot, or worse - before your unit breaks. To have a higher efficiency air conditioning unit installed by a knowledgeable Chas Roberts technician, call (602) 328-5058 in the Phoenix area or (520) 292-6858 in Tucson, or visit ChasRoberts.com.
For more information on the federal tax credits and for a list of qualified products, visit http://www.hvactaxcredits.com/2009_energystar.asp. A list of requirements and rebate application information for the APS rebate program is available on http://www.aps.com/main/green/choice/choice_3.html and for the Tucson Electric Power Company Efficient Home Cooling Program at http://www.tep.com/Green/EHC/.
Chas Roberts creates comfortable living environments for Arizona homeowners by providing installation and service of heating & air conditioning units at competitive prices. Chas and Alice Roberts founded Chas Roberts Air Conditioning in 1942 and the business has been family owned and operated since day one. Today Chas Roberts, the largest HVAC provider in the state with eight locations including Phoenix, Scottsdale, Mesa, Queen Creek, Litchfield, Avondale, Sun City and Tucson, passes along its buying power to homeowners and backs its service with highly trained personnel and on-line scheduling capabilities. For more information, visit ChasRoberts.com.
*Citations:
Air Conditioning Contractors of America Web site
Summary of 2009 HVAC Tax Credits for Homeowners Web site
Air Conditioning Contractors of America Web site
Air Conditioning Contractors of America Web site
###