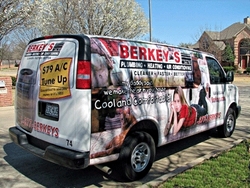 Our customers have come to expect real value and outstanding service from Berkey's
Southlake, Tex. (PRWEB) July 30, 2009
Berkey's Plumbing, Heating and Air Conditioning is on a record pace to complete more than 10,000 heating and air conditioning equipment tuneups that will save its customers more than $1 million in gas and electric bills this year.
Bill Stevens, Berkey's president, said demand for service has been strong all year, but the extreme heat in July has all but assured the company will better its previous performance.
"In this recessionary economy, people are looking for ways to save money, and they know a small investment in their heating and air conditioning equipment will pay big dividends in reduced gas and electric bills," Stevens said.
The $1 million savings figure is conservative, as it represents $100 in annual savings for every tune-up. But heating and air conditioning equipment tuneups produce efficiency gains of up to 30 percent, while combined gas and electric bills in many North Texas homes average more than $300 per month. At that rate, homeowners could approach $100 savings every month.
In steamy Texas weather, central air conditioning tuneups are vital to efficient performance and extended equipment life. Berkey's technicians perform a nine-point inspection of all inside and outside components to set equipment to factory specifications.
"It takes about 45 minutes to do a good tuneup, and we do that an average of 38 times per day year-around," Stevens said. "Heater tuneups in cool weather are just as important as air conditioning tuneups. Not only do they save money, we check for carbon monoxide and other potentially harmful gasses."
The average home heating and central air conditioning equipment runs about 3,300 hours per year. That's the equivalent of driving a car 65 miles per hour for 214,000 miles. Few vehicles would get that far without a tuneup. Also, the savings in gasoline costs for auto tuneups usually are not nearly as great as the savings on gas and electric bills that heating and air conditioning tuneups generate.
Financially speaking, air conditioning and heater tuneups are a bargain, often returning the full cost as reduced gas and electric bills within a few weeks. Stevens said Berkey's sweetens the pot by offering a service contract that covers all heating and air conditioning equipment in a home (their average customer has 3.2 units) for one flat price that is barely more than the cost of a single tuneup for one system.
As a bonus, Berkey's includes a plumbing "tuneup" as well. "Our customers have come to expect real value and outstanding service from Berkey's," Stevens said.
About Berkey's
Berkey's Plumbing, Heating and Air Conditioning has specialized in the needs of homeowners in Southlake, Grapevine, Colleyville and Flower Mound for more than 34 years. Berkey's reputation for prompt, honest service from licensed and factory trained technicians assures customers the best in professional service and equipment. Texas State License #TACLB26791E. To learn more, call Berkey's at 1-877-BERKEYS, or visit our Website at http://www.berkeys.com.
Contact:
Lee Pogue
Berkey's Plumbing, Heating and Air Conditioning
817-481-5869
###