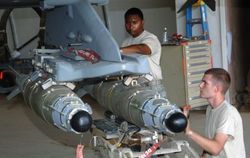 Joint Base Balad, Iraq (Vocus) August 27, 2008
The US Air Force has deployed in combat for the first time, the guided bomb unit-54, Laser Joint Directed Attack Munition - or LJDAM. The GBU-54 is the U.S. Air Force's newest 500-pound precision weapon, equipped with a special targeting system that uses a combination of GPS and laser guidance to accurately engage and destroy moving targets. On Aug. 12, F-16s from the 77th Expeditionary Fighter Squadron deployed to Joint Base Balad, Iraq, successfully executed this "combat first" when the weapon was employed - against a moving enemy vehicle in Diyala Province, Iraq.
"This employment first represents a great step in our Air Force's ability to deliver precise effects across the spectrum of combat," said Lt. Gen. Gary North, U.S. Air Forces Central commander, and US Central Commands Combined Force Air Component Commander. "The first combat employment of this weapon is the validation of the exacting hard work of an entire team of professionals who developed, tested and fielded this weapon on an extremely short timeline, based on an urgent needs request we established in the combat zone."
Identified as an urgent operational need in early 2007, the Air Force completed the GBU-54's development and testing cycle in less than 17 months, fielding it aboard 332nd Air Expeditionary Wing aircraft in May.
"We have consistently used precision-guided weapons to engage stationary threats with superb combat effects," said Brig. Gen. Brian Bishop, 332nd AEW commander. "This weapon allows our combat pilots to engage a broad range of moving targets with dramatically increased capabilities and it increases our ability to strike the enemy throughout a much, much broader engagement envelope."
Teamwork in all aspects from development to the actual weapon employment was crucial.
"Teamwork was the name of the game to accomplish this," General North said "From the experts in our Air Force Materiel Command who shaped our requirements, then developed, tested and fielded the weapon, to our aircraft maintainers, our munitions Airmen, and weapons loaders …and everyone in between … they made the operational employment of this weapon possible. At end game, on Aug. 12, the team of the joint terminal attack controller, alongside his ground unit commander in this event, ensured all criteria were met for the first combat delivery of the LJDAM. And finally, our F-16 pilot accurately and precisely delivered and guided the weapon to desired weapons effects, the disabling and destruction of an enemy vehicle and personnel," General North said.
To receive additional information on this release, please contact U.S. Air Forces Central Public Affairs at afforpa @ auab.afcent.af.mil.
###