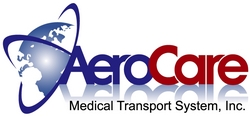 This aircraft will allow AeroCare to provide a higher level of care and provide more comfort to the patient's family members
Sugar Grove, IL (PRWEB) June 13, 2008
AeroCare Medical Transport System, Inc. has added a Lear 55ER jet aircraft to its fleet of aeromedically equipped aircraft. This aircraft will allow AeroCare to provide worldwide service.
The Lear 55 is a long-range "stand-up" cabin aircraft equipped with an airliner style washroom and can accommodate a stretcher bound patient and 5 additional medical crew/passengers. The aircraft has a range of 2,200 stature miles and is certified to fly at an altitude of 51,000 feet which is up to 2 miles higher than the altitude airliners can fly.
The aircraft's tail number is N40DK and it is currently operated on the FAA Part 135 certificate of R&M Aviation, a wholly owned subsidiary of AeroCare Medical Transport System, Inc. R&M Aviation will be performing proving runs on June 23rd with the FAA in order to obtain worldwide operating authority.
"This aircraft will allow AeroCare to provide a higher level of care and provide more comfort to the patient's family members," explains AeroCare's CEO Joseph D Cece, "and we can be cost effective as the Lear 55 has similar operating costs as our competitors much smaller Lear 35's and Lear 36's."
Entering its 15th year of operations, AeroCare is a CAMTS (Commission on Accreditation of Medical Transport Systems) accredited fixed-wing air ambulance provider with bases in the Suburban Chicago Land area, Scottsdale, Arizona and Indianapolis, Indiana. AeroCare flies patients throughout the world utilizing a fleet of aeromedically equipped aircraft including three Beechcraft King-Air 90's a Beechcraft King-Air B200, Lear 35A and a Lear 55ER. AeroCare's 24 hour Communication Center can be reached by calling 800-823-1911 or if outside the US and Canada by calling +1 (630) 466-0800. For more information visit http://www.aerocare.com .
###