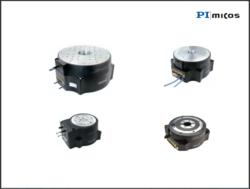 Auburn, MA (PRWEB) July 19, 2012
The UBR-AIR family of high precision air bearing rotation stages from precision motion systems manufacturer PI miCos provides high dynamics, high speed and extreme accuracy. Four different stages are available, with diameters from 100 mm to 270 mm, load capacity to 40 kg and profile height as low as 55 mm.
Direct Driven and Direct Metrology Encoder
Driven by a direct-drive torque motor and equipped with a reference class optical direct-metrology scale encoder it can achieve angular resolution down to 0.00002 degrees with repeatability of 0.00003 degrees.
Air Bearings for Higher Mechanical Precision
Air-bearings reduce friction to a minimum and provide superior lifetime, speed and velocity constancy. Wobble is minimized to 1.25 μrad. Noteworthy are the flatness and low eccentricity ± 0.07 μm. The stages achieve a maximum velocity of 360 °/sec.
Applications
UBR-AIR bearing stages are ideal for applications such as precision positioning of synchrotron optics, x-ray diffraction, semiconductor wafer inspection, optical metrology and inspection, etc.
Long Life Torque Motors
A long life and high velocity is guaranteed by brushless direct-drive torque motors that directly couple the moving stage platform to the drive. The large motor diameter provides high torque levels. The direct drive renders the usual worm-gear drives and gear box motors unnecessary, eliminating backlash and hysteresis, while improving angular stiffness, acceleration capabilities and dynamics.
More information on the precision air bearing rotary stages
About PI
PI is a leading manufacturer of precision motion control equipment, piezo systems, piezo motors and actuators for semiconductor applications, photonics, bio-nano-technology and medical engineering. PI has been developing and manufacturing standard & custom precision products with piezoceramic and electromagnetic drives for 4 decades. The company has been ISO 9001 certified since 1994 and provides innovative, high-quality solutions for OEM and research. PI is present worldwide with eight subsidiaries, R&D / engineering on 3 continents and total staff of 700+
Contact
PI (Physik Instrumente) LP
16 Albert St.
Auburn, MA 01501
USA / Canada/Mexico: http://www.pi-usa.us, Email: info(at)pi-usa(dot)us
Phone: East / Midwest: (508) 832-3456, West: (949) 679-9191
Follow PI on Twitter:
http://twitter.com/PI_Physik_Inst/
PI Blog:
http://physik-instrumente.blogspot.com