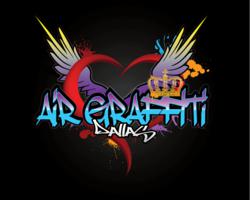 Air Graffiti is unique and brings the 'WOW' factor to an event
Dallas, Texas (PRWEB) November 13, 2012
Air Graffiti has captured the hearts of local event and party planners since it's introduction in September. Interest and demand have continued to grow weekly with many events planners learning about the unique types of service offering available from Air Graffiti Dallas.
Air Graffiti Dallas offers state-of-the-art technology that incorporates an 8' x 10' rear-projection screen as a digital canvas. Using Infrared emitters with spray paint cans, the Air Graffiti software creates a realistic digital spray paint digital graffiti wall. The digital spray paint can be adjusted for size, blur and transparency with a large color palette making it easy to use from novice to professional artist.
The Virtual Graffiti Wall is available with digital photography for a larger than life open air style photo booth with a unique twist. Customers can also book a local artist to accompany the Digital Graffit Wall to create unique and special art relevant to their events using the the Air Graffiti Technology.
As a part of the partnership program in the Dallas/Ft. Worth area, Event/Party Planners will receive a 20 percent commission for booking the Air Graffiti virtual wall at future events. This is a great opportunity for companies that have an on staff event/party planner or indivdual that is responsible for planning events and booking entertainment. Air Graffiti will provide either a 20% commission, a Gift Card equal to 20% commission, or discount of 20% for the Air Graffiti services.
"Being able to connect directly with the event planners is a good opportunity for Air Graffiti Dallas," said Dennis Walthers, owner of Air Graffiti Dallas. "There are so many events in the Dallas/ Ft. Worth area that can utilize the Air Graffiti Wall in unique ways. We have barely scrathed the surface."
"I strongly believe that the Air Graffiti is unique and brings the 'WOW' factor to an event," said Walthers. All that is needed to take advanthage of the Air Graffiti Partnership program is to mention than you are a professional event or party planner when you call to book your event.
For additional information about the Party Planner Partnership and Graffiti Digital Art Entertainment by Air Graffiti Dallas, visit the Air Graffiti Dallas website http://www.AirGraffitiDallas.com and use the Contact Us tab. For more information about Air Graffiti Dallas via phone, call 214-293-5044.