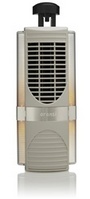 Austin, Texas (Vocus) May 10, 2010
The new money-saving ionic air purifier with night light from Oransi – http://www.oransi.com - is a silent air purifier ionizer providing light odor removal in smaller rooms throughout the home such as bedrooms and bathrooms. As an added convenience for parents, kids and seniors the ionic air purifier has a built-in LED night light. The new filterless air purifier weighs only one pound and plugs directly into any electrical socket. It helps keep air fresh in bedrooms and bathrooms up to 110 square feet.
Additional benefits Oransi's new ionic air purifier with night light provides include:

Saves money – Uses on average only five cents worth of electricity per month. There are no additional filters to buy – an added savings over time.
Portable – Weighs only one pound and is a compact 9"x 3"x 2" – making it easy to move from room to room.
Easy to use – just plug it directly into electrical socket and turn it on.
Safe – The air purifier ionizer has no cords to endanger pets or crawling babies.
Fire resistant - Made of durable fire-resistant ABS materials.
Quick clean-up – washable filter plates make frequent clean-up quick and easy with just liquid soap and warm water.
Silent – makes no noise and won't disturb people sleeping.
Eco-friendly – features a patented Piezo-electric ionizer that is ozone safe at 0.011 ppm - 78% below the FDA limit of 0.05 ppm.
Certified: CE, ETL, GS, RoHS.
Energy-efficient – features a cool LED night light that is energy efficient lasting on average between 50,000 to 100,000 hours. Uses only 1.6 watts, 115V, 60Hz.
The Oransi ionic air purifier with night light is $59.00 and available for purchase immediately online at http://www.oransi.com/oransi_ionic_air_purifier_with_night_light_p/oi163b.htm
About Oransi
Founded in 2009 by a team of executives and engineers with decades of experience in the air quality and home cleaning products industries, Oransi provides the best new green cleaning products from around the world to U.S. consumers – including HEPA air purifiers, ionic air purifiers for rooms and refrigerators, and green laundry products.
Media Contact:
Ria Romano, Partner
RPR Public Relations, Inc.
Tel. 786-290-6413
###