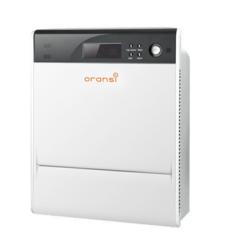 Austin, TX (PRWEB) December 29, 2011
Hot deals and discounts in January from the online retailers Oransi and Amorwares will help people keep their New Year's resolutions for healthy living and weight loss in 2012. Discounts up to 20 percent off and free shipping will be featured on select healthy home products such as HEPA air purifiers, juicers and blenders. Oransi carries green home products such as HEPA air purifiers, laundry products, ionic deodorizers and replacement filters. Amorwares is a unique online marketplace where shoppers participate in a fun daily auction and receive points when they sign up, shop online or submit product reviews. While Amorwares' daily auction allows customers to save big by winning the newest home products, the online marketplace's detailed buying guides and extensive product reviews allow shoppers to find the best product that meets their exact needs. Amorwares offers the latest in kitchen electrics, cookware and housewares at the best prices and free shipping. The auction-style online retailer features a variety of high quality juicers, blenders, air purifiers, air conditioners, vacuum cleaners, water filters, dehumidifiers, microwave ovens and espresso machines and more.
Hot deals on specific products will include Oransi's most popular air purifier – the v-HEPA Max Air Purifier – that quietly removes more than 99 percent of mold, pollen, dust, bacteria, pet dander as well as light odors and gases in rooms up to 600 square feet. Amorwares will also be discounting HEPA air purifiers with up to 20 percent off the highly rated Amaircare HEPA air purifiers and free shipping. Amorwares offers five different Amaircare HEPA air purifiers with a model to meet every budget.
For those with New Year's resolutions to lose weight and eat healthier, Amorwares is offering hot deals on their popular Breville and L'Equip blenders as well as the NativeJuicer products with free shipping. The customer favorite NativeJuicer PRSJ600 Pro Slow Juicer will be marked down 15 percent and includes free shipping. This juicer makes up to 32 percent more juice giving the user significantly more healthy and nutritious juicing per grocery dollar. This juicer's "breeze-to-clean" design eliminates annoying clean-up hassles and it will not heat the juice like high-speed juicers, thereby eliminating oxidation and leaving the most nutrition in the juice when compared to any other juicer on the market. The NativeJuicer 9 Speed Centrifugal Juicer will also be on sale, marked down 15 percent and includes free shipping. This juicer was favorably reviewed in Consumer' Digest February 2011 Issue (Best Buy) - and has the most speed settings and highest speed range, exactly what users need to extract the most juice from fruits or vegetables.
Visit http://www.oransi.com or http://www.amorwares.com/ for more information.
Media Contact
Ria Romano, Partner
RPR Public Relations, Inc.
Boca Raton, FL ~ Boston, MA
Tel. 786-290-6413
###