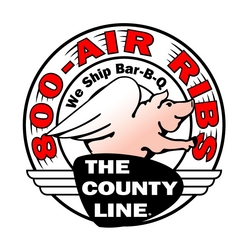 When several of our readers said they loved the County Line, we decided to check out the two Austin locations…and our readers were right
San Antonio, TX (Vocus) December 11, 2009
Want to earn points this holiday season, big time? Give a gift of County Line's® legendary smoked BBQ that can be shipped anytime, anywhere in the U.S., via Air Ribs. Slow-smoked BBQ from County Line can be ordered until December 21st.
Air Ribs Bar-B-Q delicacies include:

"Get It All Over Ya" feast (beef, baby back pork and St. Louie pork ribs, one whole brisket, peppered turkey breast lobe, and 3 lbs. of sausage)
Rib King combo (beef, baby back pork and St. Louie pork ribs)
Bar-B-Q combo (beef ribs, whole beef brisket, 3 lbs. sausage and baby back pork ribs)
custom blend sausage; jalapeno sausage
20-hour smoked beef brisket
St. Louie-style pork ribs; baby back pork ribs; meaty beef ribs
bone-in turkey breast; whole plump turkeys; boneless peppered turkey breast
bone-in and boneless ham
peppered boneless pork tenderloin or Canadian style boneless pork loin
Premium Black Angus rib-eyes, New York strip, filets and T-bones
County Line meats are slow-smoked to allow aromatic hardwood flavors to penetrate the meat, using County Line's time-honored, 30+ year process. Each portion is frozen and vacuum-packed to seal in the natural juices and flavors. All County Line meat products are packaged in a reusable Styrofoam cooler. Orders over $50 include a free bottle of County Line's signature BBQ sauce. Click here for the Air Ribs Catalog: http://www.airribs.com/airribs_catalog.pdf.
Gift givers also can send Air Ribs gift cards. The gift giver places the order for any specific good gifts, and County Line will send the recipients a card that lets them know that there is a paid Air Ribs order waiting for them. All the recipient needs to do is call and let Air Ribs know when they want it delivered. Gift certificates for $25 or more are also available. Air Ribs gift certificates should be ordered by Monday, December 21.
Air Ribs can be delivered to all 50 US states; information and orders can be found at Air Ribs or by phone at 1-800-AIR-RIBS (247-7427), Monday through Friday, 9 a.m. to 5 p.m. (CST); holiday hours will vary. All credit cards accepted. Orders placed by 2 p.m. CST Monday through Wednesday can be shipped the NEXT day for two-day delivery (or overnight upon request). Packages shipped to Hawaii and Alaska require a priority overnight service plus $15. Shipments outside the U.S. are NOT available at this time. Gift certificates/gift cards will be delivered via the US Postal Service (allow 7-10 days for delivery). Orders close to Christmas holidays may require a few more days.
Other gift options include County Line's Bar-B-Q sauce in three flavors (original, wild pork, hot & spicy); Aunt Ruth's deep dish pecan pie; mile-high 15-pound chocolate cake; colossal carrot cake; Tootie's award-winning apple pie; and mix for the restaurant's legendary home-made bread in white or wheat. For fun, throw in the "Talkin' Cowboy" CD--a Texan language lesson that gives the usual English pronunciation, followed by the true Texas cowboy version.
County Line restaurants are located in San Antonio, Austin, Conroe, Houston and El Paso, TX; Albuquerque, NM; and Oklahoma City, OK. Click here for a virtual tour of County Line on the Lake: http://www.countyline.com/bbqvideo.asp.
Since 1975, the County Line has been serving up legendary slow-smoked barbeque in a relaxed family setting. It was founded by Texans who love Texas; love its heritage and historical buildings; and love BBQ. They were—and are—committed to running a restaurant based on four principles: 1) offer the highest quality smoked barbecue – ribs, brisket, sausage and chicken – with traditional sides of cole slaw, potato salad and beans; 2) provide these BBQ specialties in generous portions at reasonable prices; 3) employ college-age students to offer friendly table service with linens and bar service; and 4) feature authentic locations that celebrate its Texas or southwestern heritage.
Visit http://www.countyline.com for more information.
Quotes:
"When several of our readers said they loved the County Line, we decided to check out the two
Austin locations…and our readers were right."
SOUTHERN LIVING
"The barbeque ribs, brisket and sausage at the County Line are out of this world! The fragrance of the first giant platter of meat brought to our table was just overwhelming."
CHICAGO DAILY NEWS
###