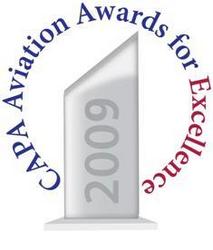 From 2 planes to 80 and from 200,000 to over 75 million passengers in just a short 7 years marks unprecedented growth by any airline globally, let alone a low fare airline like AirAsia. We are deeply flattered to accept this award and this shall further bolster our pledge - to provide superior services coupled with our low fares plus diverse service options to our guests. This is our promise
Kuala Lumpur, Malaysia (PRWEB) October 29, 2009
Exceptional achievement, brilliant innovations, and constant positive growth - these exceptional qualities made AirAsia and AirAsia X joint winners of the prestigious Centre for Asia Pacific Aviation (CAPA) Airline of the Year Award for 2009 this year at the CAPA Aviation Awards for Excellence presentation ceremony, held at the Great Wall Sheraton in Beijing, China.
The Awards Ceremony was held as part of this year's sixth annual Asia Aviation Outlook summit, showcasing airline and airport CEOs from around the Asia Pacific and Middle East regions.
AirAsia Group CEO Tony Fernandes said, "We are greatly honoured to be bestowed the most prestigious award of the evening. Undoubtedly, our ceaseless dedication in providing premium services with low fares, incessant innovations and most significantly, the unbeatable synergy of our short-haul and long-haul networks have greatly contributed to this success.
"From 2 planes to 80 and from 200,000 to over 75 million passengers in just a short 7 years marks unprecedented growth by any airline globally, let alone a low fare airline like AirAsia. We are deeply flattered to accept this award and this shall further bolster our pledge - to provide superior services coupled with our low fares plus diverse service options to our guests. This is our promise," he added.
The CAPA Airline of the Year 2009 award is deemed the uppermost level of recognition given to airlines for excellent achievements in the aviation industry and outstanding strategic contribution over the course of the past year. AirAsia had successfully proven to be the leader in the development of the airline industry with its constant innovations and rapid expansion of its operations across the region and internationally, regularly setting new standards of excellence for others to follow.
AirAsia X CEO Azran Osman-Rani was equally elated by the win. He said, "It was just in 2008 that AirAsia X won the CAPA New Airline of the Year award. Being acknowledged as the CAPA Airline of the Year for 2009 within just a year of our previous win is indeed a great honour. This recognition will greatly boosts our fortitude in offering greater quality services to all our guests and inspire us to further expand our network and enhance our reach tremendously. This is really a proud moment for both AirAsia and AirAsia X. We would like to thank CAPA for their utmost recognition to us".
AirAsia has previously won several awards from CAPA - AirAsia was a joint winner of the Airline of the Year award in 2003, won the Asia Pacific Low Cost Airline of the Year 2004, followed by the Asia Pacific Aviation Executive of the Year 2005 which was awarded to Tony Fernandes, Group CEO and Founder of AirAsia.
In 2007, the airline again scored the prestigious Airline of the Year award and in 2008, AirAsia X was conferred the New Airline of the Year Award.
Peter Harbison, Executive Chairman of the Centre for Asia Pacific Aviation (CAPA) said, "AirAsia has had another superlative year amid some of the toughest conditions to hit the airline industry on record. An innovator in revenue generation, with a strongly developing network and consistent focus on maintaining its world leading low cost base, AirAsia was the outstanding performer in 2009. AirAsia and AirAsia X are leading the way in developing short-haul to long-haul connectivity in ways which promise to revolutionize the international marketplace".
About AirAsia and AirAsia X
AirAsia, the leading and largest low-cost carrier in Asia, services the most extensive network with over 130 routes covering 65 destinations. Within the grasp of 7 years of operations, AirAsia has carried over 75 million guests and grown its fleet from just two aircraft to 85. The airline today is proud to be a truly Asean (Association of Southeast Asian Nations) airline with established operations based in Malaysia, Indonesia and Thailand, servicing a network stretching across all Asean countries, China, India, Bangladesh and Sri Lanka. This is further complemented by AirAsia X, its low-cost long-haul affiliate carrier that currently flies to destinations in China, Australia, Taiwan, the UK, and, very soon, Abu Dhabi. AirAsia is the only regional carrier with the largest destination network and highest flight frequencies. AirAsia has been named the 2009 World's Best Low Cost Airline in the annual World Airline Survey by Skytrax and was for the third time named the Best Asian Low Cost Carrier by TTG, Asia Pacific's leading travel news publisher.
Please visit "http://www.airasia.com".
# # #