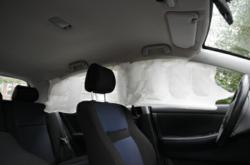 San Antonio, Texas (PRWEB) February 28, 2012
Automotive defect lawyers like those at Watts Guerra Craft LLP are closely watching the ongoing federal safety investigation into side airbag failures. Following an announcement that some vehicles may be installed with defective airbags, the National Highway Traffic Safety Administration (NHTSA) is looking beyond the initial vehicle recall to determine whether more cars need to be pulled from the market (refer to NHTSA Action Number : EQ12002).
Toyota, Honda, Subaru and Nissan have already recalled vehicles after side airbag failures. The NHTSA is now attempting to determine if more automotive manufacturers have used the same or similar defective airbag component parts, including a faulty airbag inflator.
The four manufacturers already engaged in the airbag recall process each listed Autoliv Inc., a safetyparts maker, as the supplier of the faulty airbag inflators. Autoliv told NHTSA that it shipped approximately 10,500 of the problem airbag inflators to various automakers and two other airbag manufacturers.
How Side Airbags Inflate and Why They Fail
In a car crash, a complex combination of gasses cause side airbags to inflate. If the combination of gasses is incorrect, the side airbag system may be rendered ineffective. This kind of manufacturing defect can prevent airbags on one or both sides of affected vehicles from inflating, increasing the risk of injury in a car accident.
If you or someone you care about were in a car accident in which side airbags failed to deploy, you may have an automotive defect claim. You should speak to an experienced product liability lawyer quickly to make sure your claim is filed within applicable time limitations.
Mikal Watts, Hunter Craft, and the automotive defect litigation team of Watts Guerra Craft LLP have handled thousands of airbag defect claims across the United States. We work with the best airbag experts in the business, and have won some of the most significant legal victories in American history.
For more information about Watts Guerra Craft LLP, please visit our new website, find us on Facebook, or follow us on Twitter.
Stacey Burke
National Marketing Attorney
Watts Guerra Craft LLP
4 Dominion Drive, Building One
San Antonio, Texas 78257
contact(at)wgclawfirm(dot)com
# # #