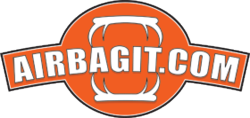 We, at AirBagIt, like to offer all the help we can to ensure our products are received in the best manner
Mesa, Arizona (PRWEB) March 17, 2012
Responding to growing demand from enthusiastic buyers and users, AirBagIt recently announced that it has launched an online video tutorial on how to install front air spring and shock systems in 2003-2009 Dodge vehicles.
The newly launched video, entitled "AirBagIt.com 2003-2009 Dodge 2WD Front Air Suspension Install," is tailored specifically to Dodge vehicle owners, and is meant to teach customers about their recently purchased product.
The Mesa, Arizona-based auto parts retailer has released over the past few months a series of YouTube videos produced by AirBagIt on topics ranging from air struts installation to towing kit installation.
"Our Dodge 2WD front air suspension installation video is a great tutorial for our Dodge drivers," said AirBagIt President Joe Morrow. "We, at AirBagIt, like to offer all the help we can to ensure our products are received in the best manner."
The tutorial, AirBagIt.com 2003-2009 Dodge 2WD Front Air Suspension Install, presents AirBagIt employees carrying out the installment.
Formed in 1987, AirBagIt, once named Ratical Tops, was known for assembling convertible tops for most truck brands of the day. Several years later, the company diversified and expanded to include a newer product line of air-suspension systems. Since then, the company has reformed as AIM Industries, originator of the AirBagIt and Chassis Tech brands.
The latest YouTube tutorial is one of the most recent cutting-edge features AirBagIt and Chassis Tech have introduced. In addition, the leading auto-part expert has revamped its Web site and increased its line of products.
"For Dodge drivers, GM drivers or any car driver, we offer all the tips and solutions," said Morrow. "Our Web site is jam packed with helpful links and articles to ensure our customers receive the most helpful information they can ask for."
For more information on AIM Industries or the AirBagIt and Chassis Tech brands call (800) 842-8789.
About AirBagIt
Formed in 1987, AirBagIt has been serving as a leader in its field of aftermarket air-suspension kits. AirBagIt, along with the Chassis Tech brand, offer a diverse line of spindles, suspension kits, 4Link kits, lowering kits, air-lift suspensions, train horns, lambo doors, etc,. AirBagIt ships over 600 items a day and offers a full refund on most of its products.
For additional information, interview, and image requests contact VirtuosOnline.