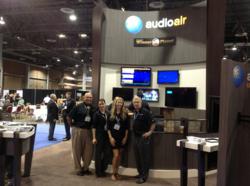 Las Vegas, NV (PRWEB) October 02, 2012
Durango, Colorado based Airborne Media Group, Inc. ("Airborne") announced today that it will participate as an Exhibitor and Sponsor at the 2012 Global Gaming Expo in Las Vegas, Nevada this week. The company will showcase the groundbreaking Audioair® system and the new Winner Planet™ product suite in concert with its strategic and technical partner, the Southern Ute Tribe's Sky Ute Casino.
Audioair® provides a revolutionary new entertainment experience providing Smartphone users the ability to selectively listen to and interact with televisions and digital displays which require their audio muted for noise considerations. It also provides one of the most powerful location based advertising and CRM platforms yet devised. Winner Planet™ takes the Audioair platform and its innovative mobile applications and optimizes them for the casino customer experience by permitting rich interaction between the casino and its customers before, during and after they leave the premises.
The Southern Ute Tribe and its Sky Ute Casino and Airborne entered into their alliance earlier this year. The alliance represents a collaborative effort between an emerging high mobile technology company and an experienced Native American casino operation. The two parties will launch a strategic product rollout to other Native American and Indigenous Peoples' gaming operations in 2012 and seek to further evolve their combined product suite to introduce state-of-the-art social networking and mobile commerce features.
The premier trade show and conference for the international gaming entertainment industry, Global Gaming Expo 2012 (G2E), is being held Oct. 1-4, 2012 at the Sands Expo and Convention Center in Las Vegas, Nevada. G2E will feature the latest gaming, hospitality, entertainment and tech products for the Casino and Gaming Industry.
Airborne Media Group CEO, Cordell Brown stated, "We are very pleased to make our debut at G2E 2012 with our joint venture partners Sky Ute Casino and the Southern Ute Tribe. Our intent is to introduce our breakthrough mobile commerce and social networking technology, Audioair®, as well as unveil our innovative new mobile application, Winner Planet™ developed specifically for the Indian gaming market. We have made great progress over the past six month in our collaboration with Sky Ute Casino, E7 Systems and the Southern Ute Tribe.
Further features of the Winner Planet™ product suite are designed to provide instant communication between the Casino and its players; giving players an opportunity to get the latest promotions as soon as they are launched and even plan their visit while in transit. It goes further in keeping players up-to-date on loyalty points, delivering cash-on-demand on the casino floor, and providing fun/learning tools for craps and other casino games. Airborne's patent pending technology features a free mobile application available in the App Store and Google Play marketplace, and is designed to interface with a proprietary Audioair® system that's installed on premise. The Wi-Fi-enabled app also permits customers to enjoy social chat features, Facebook check-in, digital screen interactivity and receive location-driven content. The result of Airborne's rapidly expanding network of Audioair® systems is the emergence of an all new dedicated mobile media channel, giving local and national brands the opportunity for highly targeted mobile advertising campaigns with interactive and location-based content that is distributed to users on the Audioair® network.
Airborne Media Group, Inc. is a privately held corporation founded in 2010. Its newly invented technology is designed to deliver an entirely new entertainment, news and information distribution experience by permitting the users of smart phones to privately listen in to televisions in all types of venues where they must be muted for noise considerations. The company has created and is expanding a team of strategic and technical partners, as well as a new sales distribution system to further develop its technology and achieve its ambitious sales and marketing goals.
The Southern Ute Indian Tribe is located on the Southern Ute Indian Reservation in Southwest Colorado. The reservation land area covers 1,058.785 square miles. The Tribe is recognized for its progressive attitude and strong business endeavors which include extensive natural gas and oil holdings. Tribal Council headquarters are located in Ignacio, Colorado. The reservation is home to the Sky Ute Casino Resort, Sun Ute Community Center and the new Southern Ute Cultural Center and Museum.
Sky Ute Casino Resort opened in 1993 and expanded in 2008 with a new, architecturally striking, state-of-the-art casino, hotel and convention center. It is recognized as the top-ranking casino in the region.
Airborne Media Group and Audioair® are registered trademarks of Airborne Media Group, Inc. in the United States and/or other countries.
The names of actual companies and products mentioned herein may be the trademarks of their respective owners.