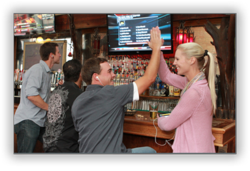 Audioair is one of the more interesting projects I have worked on in my career, and it appears that it has great market appeal.
Durango, CO (PRWEB) November 04, 2011
Durango, Colorado based Airborne Media Group, Inc. announced the formation of technical strategic partnerships with Durango, Colorado based Rock Systems, LLC and San Diego, California based Accel RF-Corporation to drive further engineering development and manufacturing of its new Audioair™ "listening experience" systems. Audioair permits smartphone users to privately listen to televisions in public venues such as airports, and private businesses such as sports bars, restaurants and casinos which have their audio muted because of noise considerations. The Company introduced its product line to Albuquerque, New Mexico sports bars on September 17, 2011 and is now moving into multiple markets the last quarter of 2012.
Rock Systems, LLC is an electrical engineering firm which provides high-technology electronic system solutions to customers worldwide and was instrumental in the initial development of Audioair for electrical mechanical design, software development and patent filings.
Accel-RF Corporation, which shares key management with Rock Systems, LLC, provided initial manufacturing runs of Audioair and is poised to support Airborne's further manufacturing needs for its national product roll-out.
David Sanderlin Appointed to the Airborne Media Group, Inc. Board of Directors
David Sanderlin, President of Rock Systems, LLC and Executive Vice President and CTO of Accel-RF, has been named to the AMG Board of Directors in furtherance of the strategic partnership formations. Mr. Sanderlin's career spans thirty-three years and includes engineering assignments for NASA and NASA contractors, as well as the Department of Defense and the founding of his current businesses and other private high-tech engineering work. He received his BSEE and MSEE from the University of Texas at Austin in 1976 and 1978, respectively.
Chip Lile, AMG's Executive Vice-President commented on the formation of the alliances and Mr. Sanderlin's appointment to the AMG Board. "Our alliances ensure that we will have the engineering capabilities necessary to realize the tremendous product and service potential created by Audioair, as well as other products and services we are currently developing." Mr. Lile added, "Dave Sanderlin's addition to the Board reinforces our commitment to innovative product design and development. In addition, Accel-RF brings precision manufacturing capabilities to the table that are critical for the flawless operation of our systems and emerging network, especially as it becomes more far-reaching."
Mr. Sanderlin stated that "Audioair is one of the more interesting projects I have worked on in my career, and it appears that it has great market appeal." He added, "I am also delighted to be appointed to the AMG Board of Directors, as this company is poised to develop a number of innovative products and services. Being on the Board makes the alliances we have formed highly effective."
Additional Patent Filings Anticipated for Audioair
One of the key objectives of the strategic partnerships will be the filing of additional patents arising from the original development work undertaken for Audioair. Under contract to AMG, Rock Systems, Inc. developed a new digital audio codec that was required to correct certain deficiencies in the Google Android audio decode processing capabilities which hampered the operation of Audioair because of poor audio quality. Chip Lile stated, "With all of the myriad challenges our start-up company faces, it is tremendously important to have these strategic technical partnerships in place so that we can achieve maximum value for our emerging technologies."
Airborne Media Group, Inc. is a Durango, Colorado based privately held corporation founded in 2010. Its newly invented Audioair technology is designed to deliver an entirely new entertainment and news and information distribution experience by permitting the users of Smartphones to privately listen in to televisions in all types of venues where they must be muted for noise considerations. The company is currently developing other new products and services and it is expanding a team of strategic partners to further develop its technology and achieve its ambitious sales and marketing goals.
Rock Systems, LLC is a Colorado business entity which provides high-technology electronic system solutions to a variety of engineering needs. Their technical knowledge covers a broad range of electronics, from complex system development to component-level performance at DC to millimeter-wave frequencies.
Accel-RF Corporation© is the only provider of fully integrated RF accelerated life-test/burn-in test systems for compound semiconductor devices, which are used in the implementation of broadband wireless infrastructures and networks. Our fully automated turnkey systems determine RF and DC performance degradation with aging to predict life expectancy. Founded in June 2003, but with a legacy that goes back to 1988, Accel-RF Corporation is privately held and located in San Diego, California. The Company is currently manufacturing key components for Audioair.
Airborne Media Group and audioair™ are trademarks of Airborne Media Group, Inc. in the United States and/or other countries.
The names of actual companies and products mentioned herein may be the trademarks of their respective owners.
For more information on Airborne Media Group, Inc.:
http://www.airbornemediagroup.com/
http://www.audioair.net/
For more information on Rock Systems, LLC:
http://www.rocksys.com/
For more information on Accel-RF Corporation
http://www.accelrf.com/www/
###