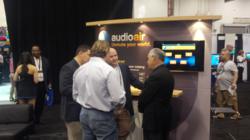 This is the most innovative product to come along in long time. It is groundbreaking and it fills a nagging need that our thousands of Sports Bar and Restaurant customers have been grappling with for years--
Las Vegas, Nevada (PRWEB) March 15, 2012
Durango, Colorado based Airborne Media Group, Inc. announced today from the floor of the Night Club and Bar Convention in Las Vegas, Nevada that it has reached agreement with its first distribution partner for its new nationwide Audioair Partnership Program. Airborne introduced the new program earlier this week at the South by Southwest Interactive in Austin, Texas. SEVA Entertainment, Inc. of Fort Lauderdale, Florida will represent Airborne Media Group, Inc., and its revolutionary new Audioair technology throughout the Southeast and north into Virginia and the District of Columbia. SEVA Entertainment, Inc. has represented Direct TV in the same region for over seventeen years and it will first present Audioair to its roughly five thousand customers—primarily Sports Bars and Restaurants beginning April 1, 2012.
Airborne's groundbreaking technology delivers an on-premise listening system that permits the end-users of Smartphones and tablets to privately listen in to televisions in Sports Bars and Restaurants, Casinos, Cruise Ships and Airports—anywhere that a public television display is located but has its audio muted because of noise considerations. Audioair also provides a highly targeted and interactive advertising program, which shares revenues with the brick and mortar establishments which install the Audioair system. Other optional features include customer loyalty program integration and social media capabilities. Airborne Media Group (AMG) has been piloting its groundbreaking Audioair technology in the greater Albuquerque/Santa Fe, New Mexico geographic market and with this announcement marks its 2012 initiative to launch the proprietary technology nationwide.
Glenn Young, AMG Executive Vice President of Sales made the partnership announcement and said, "We're very excited to enter into this relationship with SEVA as our first channel partner, not only because of their long and distinguished sales effort throughout the targeted region, but also because we know they will provide stellar customer service to our new customers throughout the markets they will serve."
Brian Hertz, Owner of SEVA Direct will notify his customer base of the new product offering over the next few months and commented on the Airborne's appointment decision by saying, "We are honored that Airborne would select us as their first distribution Partner, and we are excited to roll-out Audioair to such a prime market."
He added, "This is the most innovative product to come along in long time. It is groundbreaking and it fills a nagging need that our thousands of Sports Bar and Restaurant customers have been grappling with for years—after investing thousands of dollars in multimedia systems featuring expensive rich content, how can they complete the entertainment experience by making it possible to listen to all of those new panel televisions without raising noise levels?"
Mr. Hertz also commented, "There have been other attempts to solve this problem, but this one actually works using-state-of-the art technology. It is directed at partnering with the customer very inexpensively, and even that cost is itself recoverable through the advertising revenue sharing program."
###
Airborne Media Group, Inc. is a privately held corporation founded in 2010. Its newly invented technology is designed to deliver an entirely new entertainment and news and information distribution experience by permitting the users of smartphones and other mobile devices to privately listen in to televisions in all types of venues where they must be muted for noise considerations. The company has created and is expanding a team of strategic and technical partners to further develop its technology and achieve its ambitious sales and marketing goals.
SEVA Entertainment, Inc., a sales and marketing company was established in 1998. Bob Arnold, Joe Hulecki and Brian Hertz formerly with FOX Sports Direct and Liberty Satellite Sports have combined their experience and resources to create one of the most successful commercial companies of its kind.
SEVA Entertainment covers the Hospitality Industry throughout the Southeast and Mid-Atlantic regions. Along with handling the Hospitality business on the local level, SEVA has established itself in developing National and Regional accounts across the country.
Airborne Media Group and audioair™ are trademarks of Airborne Media Group, Inc. in the United States and/or other countries. The names of actual companies and products mentioned herein may be the trademarks of their respective owners.
For more information, press only:
Glenn F. Young, Executive Vice President, Airborne Media Group, Inc.
(817.291.9204), (glenn(at)airbornemediagroup(dot)com)
For more information on Airborne Media Group, Inc.:
http://www.airbornemediagroup.com/
http://www.audioair.net/
For more information on SEVA Entertainment, Inc.
Brian E. Hertz, Owner, SEVA Entertainment, Inc.
(877.966.7382), (hertz(at)sevadirect(dot)com)