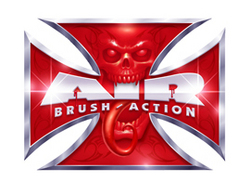 We're very focused on all the emerging forms of new media, and we're aggressively working to incorporate as much promotional and instructional interactive content to further inform, educate, and entertain the site's visitors
Allenwood, NJ (PRWEB) July 27, 2008
Airbrush Action magazine, the world's leading airbrush publication for 23 years, has launched AirbrushAction.com, their completely redesigned, highly innovative, and user-friendly website focusing on airbrushing tips, books, videos, equipment, news & classes.
"After many months of exhaustive work, I'm proud to share this cutting-edge website with our loyal readers and the entire airbrush community. Airbrushaction.com is stylish, informative, and loaded with surprises not seen on competing sites," said Cliff Stieglitz, Airbrush Action's Publisher.
Airbrushaction.com features an airbrushing blog covering the latest airbrushing news, tips & tricks], user forums, streaming video, easy navigation, an online store, artist bios and galleries, top pro airbrush tricks and techniques, back issues, new products, buyers guides, late-breaking news, and much more.
"We're very focused on all the emerging forms of new media, and we're aggressively working to incorporate as much promotional and instructional interactive content to further inform, educate, and entertain the site's visitors," explained Allen Gottfried, of Airbrush Action's Digital Media division. "With our new and ambitious marketing efforts, and unsurpassed content, our goal is to become the number one online airbrush resource."
About Airbrush Action Magazine
Airbrush Action Magazine is available through Barnes & Noble and other newsstand/bookstore outlets, select art stores nationwide and internationally, and in digital form online at AirbrushAction.com. Airbrush Action is edited for automotive custom painters, T-shirt artists, the custom culture, hobby applications, fine art, body art, and tons more.
Airbrushing Classes
As a recognized leader in the Airbrushing community, Airbrush Action offers training classes and workshops for enthusiast looking to improve their airbrushing techniques.
# # #