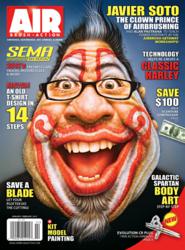 "We love saving the day," Goldman continued, "because as a staff of airbrush artists we know what it's like to be at the brink of disaster at the eleventh hour with seemingly no one to turn to."
(PRWEB) August 02, 2012
Airbrush Action magazine, the World's leading airbrush publication for 27 years recognizes Chicago Airbrush (http://www.chicagoairbrushsupply.com) as one of the best sources of airbrush supplies, equipment, and customer service in the United States and Canada.
According to Cliff Stieglitz, Airbrush Action's publisher, "Richard Goldman, Chicago Airbrush's owner, is a visionary in an industry that is experiencing a renaissance of sorts. He not only stood by his belief in airbrushing, but boldly and aggressively stepped up his efforts to promote it by increasing his staff (24 people), inventory, and product line, and establishing a strong presence in Airbrush Action and on the internet. They even developed a stencil line to improve artists' efficiency and results."
Add to that their exceptional customer service and free shipping policy. "Once, I had a call on a Friday morning from two frantic women at the airport," Mr. Goldman explained. "They were professional make-up artists from New York who had lost their luggage and all their make-up and equipment with it. They had a wedding assignment and absolutely no time left. We not only honored our online discount pricing, but we rushed everything they needed--a set of airbrushes, a compressor, make-up, cleaning supplies, and more-- to their location. They order from us to this day."
And there are countless similar stories of Chicago's altruism. "We love saving the day," Goldman continued, "because as a staff of airbrush artists we know what it's like to be at the brink of disaster at the eleventh hour with seemingly no one to turn to."
In fact, when Chicago Airbrush officially opened their retail outlet in 1989, customers drove from as far as Ohio, Indiana, Wisconsin, and Michigan to visit.
And if you don't believe the source itself, the Google and Yahoo user reviews should convince you:
"Chicago Airbrush had the best price online for the spray booth I wanted. The booth arrived within three days. Overall, my experience was excellent."
"I am pleased with how they handle orders and help with info on products. They have all the products that I was looking for; many other art stores do not handle this great a variety which is very frustrating when you need certain items. I wish your store were closer!"
"The folks from Chicago Airbrush Supply were exceptionally helpful. I was in a bind and needed paint for a job, and they personally made sure that it shipped the same day. They answered questions about the paint (it was new to me) and made recommendations based on previous clients' feedback. Honestly, this was some of the best customer service I've ever received!
Also, they rated 'Excellent' in price, delivery, shipping options, ease of purchasing, and customer service.
To further bolster their name nationally and internationally, Chicago Airbrush launched an advertising campaign of three pages in Airbrush Action magazine beginning with the March-April 2012 issue with fabulous results.
According to Goldman, "My involvement with Airbrush Action proved two things: That print is alive and very well, and that my business has experienced a 30 to 40% increase in sales!"
For more information, visit Chicago Airbrush online at http://www.chicagoairbrushsupply.com and http://www.airbrushaction.com.
About Airbrush Action Magazine:
Founded by Cliff Stieglitz in 1985, Airbrush Action magazine is the longest publishing airbrush magazine in world history. Distributed internationally through Barnes & Noble, Books-A-Million, 7-Eleven, all military branches, and many other mainstream outlets, Airbrush Action is edited for airbrush enthusiasts and art professionals. It covers all popular applications of airbrushing, including body art, automotive custom painting, T-shirt airbrushing, tattoo art, pin-up art, hobby/model uses, illustration, fine art, and more. For more information, Airbrushaction.com or contact Cliff Stieglitz, Airbrush Action magazine publisher, at ceo(at)airbrushaction(dot)com.