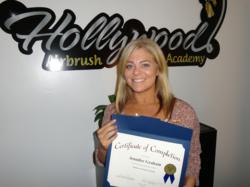 Airbrush tanning is the latest trend amongst people who love to tan their skin without exposing themselves to the adverse health effects of UV rays.
Los Angeles, CA (PRWEB) February 13, 2013
Hollywood Airbrush Tanning Academy's latest graduate Jennifer Storey-Graham has just announced her arrival in the beauty and wellness industry. Like all certified students from the academy, Jennifer has also started her own spray tanning business immediately after the completion of her certification program from America's most reputed spray tanning training center. Through her new business named Divamobile, Jennifer is now offering mobile spray tanning services covering Glendora, Laverne, Pasadena, South Pasadena, Arcadia, Sierra Madre, San Marino, Claremont, Pomona, Brea, San Dimas, Azusa, Covina, West Covina, Monrovia, Duarte, and Alhambra. In addition to airbrush tanning, Jennifer is also offering skin treatment and eyelash extension services.
Jennifer is no stranger to the beauty and wellness market as she has worked as an esthetician in a spa. She also owned a mobile preschool dance company called Webby Dance. When asked about her future plans relating to her new spray tanning business, she said, "My goal is to have a high end mobile spa that brings airbrush tanning, eyelash extensions, and specialized skin treatments to the comfort of your own home. I would eventually like to serve all of L.A, San Bernardino, Riverside and Orange County". She also thanked Hollywood Airbrush Tanning Academy for their exemplary support that helped her immensely in launching Divamobile. Divamobile can be contacted at 626-272-1446 or at http://www.divamobiletanandlash.com.
Airbrush tanning is the latest trend amongst people who love to tan their skin without exposing themselves to the adverse health effects of UV rays. This latest technique of tanning is completely sunless and makes use of HVLP spray guns and tanning solutions. Most importantly, airbrush tanning can create results that are as attractive as the traditional form of tanning. With the increasing popularity of spray tanning, most tanning salons are now beginning to offer this service. The founder of the Hollywood Airbrush Tanning Academy Simone Emmons is one of the most experienced airbrush tanning experts in the country and is now sharing her expertise to help spray tanning enthusiasts master this emerging technique of tanning.
About Hollywood Airbrush Tanning Academy:
Hollywood Airbrush Tanning Academy is located in Los Angeles, California and offers an extensive Airbrush Tanning Certification program to anyone who wishes to learn the art and business of spray tanning. Simone Emmons, the creator of the spray tanning training program has been a professional, licensed spray tanning technician and teacher and has helped numerous entrepreneurs from Utah, Colorado, Nevada, Minnesota, Arizona, South Carolina, Oregon, Florida, California and the Island of Hawaii and Trinidad start a business in Airbrush Tanning. The spray tan program is unique because it provides hands-on and private spray tanning training to individuals who want to start an Airbrush Tanning Business. According to Emmons, this spray tanning program gives individuals a leading edge in starting an Airbrush Tanning business immediately after finishing with the training. Students have the option to choose from a full day course of 10-12 hours or two half day courses of 5-6 hours a day or through live video conferencing. The academy is also launching a website soon so students can learn Airbrush Tanning Online. Many tanning training institutions only educate students on their own equipment and products they sell, however Hollywood Airbrush Tanning Academy does not sell any of their own products and provides training and education on all equipment and good products in the airbrush tanning industry.
Individuals interested in learning and starting a career in airbrush tanning should visit the website at http://www.HollywoodAirbrushTanningAcademy.com or for more detailed information about the course at http://www.1DaySprayTanTraining.com