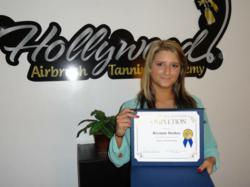 Her ability to grasp everything so quickly impressed me very much. She is very bright and also had great training in working in tanning salons
Los Angeles, CA (PRWEB) February 02, 2013
The tanning industry across the country is experiencing a rapid change with the growing popularity of spray tanning. Nation's premium airbrush tanning training center Hollywood Airbrush Tanning Academy has just announced that their latest graduate Bryanne Doshay has completed her spray tanning training and works for four tanning salons in the Orange County and Los Angeles area. Bryanne has just started her own airbrush tanning business to offer sunless tanning services to clients in Cypress, Anaheim, Fullerton, Long Beach, Brea, Orange County, and Huntington Beach. Hollywood Airbrush Tanning Academy has taken a leading role in popularizing this latest tanning technique, and many of their students are now the owners of successful spray tanning businesses.
Hollywood Airbrush Tanning Academy's remarkable success can be attributed to its highly proficient and energetic owner and founder Simone Emmons. She is the leading airbrush tanning expert in the country and provides spray tanning services to some of the most popular actors and models in Los Angeles. Simone was extremely pleased with her latest student and mentioned that Bryanne has been one of her youngest and brightest students. She also added, "Her ability to grasp everything so quickly impressed me very much. She is very bright and also had great training in working in tanning salons. She will be working independently and also providing airbrush tanning services to 4 tanning salons, and I wish her all the best in all her future endeavors".
In spite of her young age, Bryanne Doshay has loads of experience in the beauty and wellness industry. Immediately after high school, she received formal training to learn makeup, special effects, body painting, fantasy makeup, glamour, natural, and much more. Later on, she became a certified UV tanning technician while pursuing her business degree. Talking about her decision to learn airbrush tanning, she said, "I already know a lot of aspects of makeup and I work in tanning salons, so I wanted to start being able to tan people through airbrush tanning. It will further my career with something I enjoy, and I'm good at. I want to make an atmosphere where my clients feel comfortable to be airbrushed and eventually expand my career into a small business". Bryanne's Airbrush Tanning can be reached on Facebook by searching for BD Airbrush Tans or by calling 714-225-6424.
About Hollywood Airbrush Tanning Academy:
Hollywood Airbrush Tanning Academy is located in Los Angeles, California and offers an extensive Airbrush Tanning Certification program to anyone who wishes to learn the art and business of spray tanning. Simone Emmons, the creator of the spray tanning training program has been a professional, licensed spray tanning technician and teacher and has helped numerous entrepreneurs from Utah, Colorado, Nevada, Minnesota, Arizona, South Carolina, Oregon, Washington, Oklahoma, Florida, California and the Island of Hawaii and Trinidad start a business in Airbrush Tanning. The spray tan program is unique because it provides hands-on and private spray tanning training to individuals who want to start an Airbrush Tanning Business. According to Emmons, this spray tanning program gives individuals a leading edge in starting an Airbrush Tanning business immediately after finishing with the training. Students have the option to choose from a full day course of 10-12 hours or two half day courses of 5-6 hours a day or through live video conferencing. The academy is also launching a website soon so students can learn Airbrush Tanning Online. Many tanning training institutions only educate students on their own equipment and products they sell, however Hollywood Airbrush Tanning Academy does not sell any of their own products and provides training and education on all equipment and good products in the airbrush tanning industry.
Individuals interested in learning and starting a career in airbrush tanning should visit the website at HollywoodAirbrushTanningAcademy.com or for more detailed information about the course at http://www.1DaySprayTanTraining.com