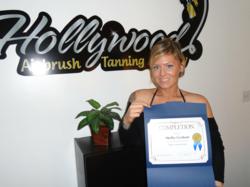 The top quality hands on spray tanning training from the Hollywood Airbrush Tanning Academy have now made her an expert of this advanced spray tanning technique.
Los Angeles, CA (PRWEB) January 23, 2013
The nation's leading spray tanning training center Hollywood Airbrush Tanning Academy announces another aspiring student that has successfully transitioned to the promising business field of airbrush tanning. Shelby Graham, the latest graduate of the academy, attended her training and is already the proud owner of her own business named Light My Fire Custom Tanning. The areas served by the business include Bakersfield, Oildale, Rosedale, Lamont, Taft, Arvin, Shafter, Wasco, Delano, & Tehachapi. Many of the former students of the Hollywood Airbrush Tanning Academy are already established in this growing business, thanks to the top notch training offered at the academy.
With increasing public awareness about the harmful effects of sun tanning, spray tanning has become the more preferred option for many tanning enthusiasts. However, being an emerging field, most tanning professionals are not well acquainted with the intricacies of spray tanning. Shelby went to another spray tanning academy before coming to the Hollywood Airbrush Tanning Academy, but that didn't prepare her enough to master the art of sunless tanning. However, the top quality hands on spray tanning training from the Hollywood Airbrush Tanning Academy have now made her an expert of this advanced spray tanning technique.
Shelby has had an extremely eventful career so far. After working as a customer service representative for AT&T for five years, she became a Preschool teacher. She also attended a program to become a Respiratory Therapist, and has been a stay at home mom since the last three years. Explaining her decision to learn airbrush tanning, she says, "After going to a tanning bed for about 15 years, I started to see the signs of sun damage and premature aging and decided to stop. To my surprise, after an airbrush tan appointment, I was extremely satisfied. I didn't have any of the negative reactions that I had in the past. After that wonderful experience, I realized how great it would be to share this experience with others, especially women, and that is how Light My Fire Custom Tanning was born". Light My Fire Custom Tanning can be reach at http://www.lightmyfirecustomtanning.com or at 661-674-7371.
About Hollywood Airbrush Tanning Academy:
Hollywood Airbrush Tanning Academy is located in Los Angeles, California and offers an extensive Airbrush Tanning Certification program to anyone who wishes to learn the art and business of spray tanning. Simone Emmons, the creator of the spray tanning training program has been a professional, licensed spray tanning technician and teacher and has helped numerous entrepreneurs from Utah, Colorado, Nevada, Minnesota, Arizona, South Carolina, Oregon, Florida, California and the Island of Hawaii and Trinidad start a business in Airbrush Tanning. The spray tan program is unique because it provides hands-on and private spray tanning training to individuals who want to start an Airbrush Tanning Business. According to Emmons, this spray tanning program gives individuals a leading edge in starting an Airbrush Tanning business immediately after finishing with the training. Students have the option to choose from a full day course of 10-12 hours or two half day courses of 5-6 hours a day or through live video conferencing. The academy is also launching a website soon so students can learn Airbrush Tanning Online. Many tanning training institutions only educate students on their own equipment and products they sell, however Hollywood Airbrush Tanning Academy does not sell any of their own products and provides training and education on all equipment and good products in the airbrush tanning industry.
Individuals interested in learning and starting a career in airbrush tanning should visit the website at HollywoodAirbrushTanningAcademy.com or for more detailed information about the course at http://www.1DaySprayTanTraining.com