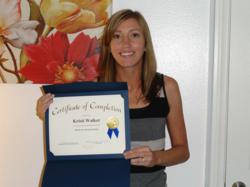 Kristi was actually like a little mini-me and I liked how she picked up everything right away and she copied me in everything that I taught her about business and marketing
Los Angeles, CA (PRWEB) April 13, 2013
America's most revered airbrush tanning training institution Hollywood Airbrush Tanning Academy has achieved a significant milestone by recruiting their first trainer. To date, all the training related activities for the academy were handled by its founder Simone Emmons. Simone will continue to conduct airbrush tanning classes in Los Angeles. Whereas, their new trainer Kristi Walker will be offering hands-on Airbrush Tanning Classes on the East Coast. Kristi is a former student of the Hollywood Airbrush Tanning Academy who had her own airbrush tanning business in Agoura Hills, California. Kristi will now be the trainer for the Hollywood Airbrush Tanning Academy on the East Coast and will share exactly the same program as is done by them on the West Coast.
Simone Emmons, the charismatic founder of the Hollywood Airbrush Tanning Academy has been instrumental in helping many aspiring spray tanning professionals to make it big in this emerging business. She saw a lot of potential in Kristi when she came to the academy as a student. "She was actually like a little mini-me and I liked how she picked up everything right away and she copied me in everything that I taught her about business and marketing, and this is why she was able to get her airbrush tanning business up and running quickly", says Simone. Due to some unfortunate turn of events, Kristi recently became a single mom. As she has 3 young children, she decided to move back to the East Coast to be close to her immediate family.
With Kristi on board as a traveling trainer, Hollywood Airbrush Tanning Academy is currently scheduling airbrush tanning classes in Plainfield, Illinois. They have several students signed up already for the class. The academy is also working on scheduling classes in Kentucky, South Carolina & North Carolina, Ohio, Florida, Georgia, Virginia, West Virginia, and Illinois. "We are currently looking for venues in all the different cities to host our hands-on airbrush tanning classes", says Simone.
Expressing her satisfaction about having Kristi on her team, Simone said, "Hollywood Airbrush Tanning Academy is excited to be able to offer Kristi an opportunity to show off her skills and talent and everything that she learned at the Hollywood Airbrush Tanning Academy. Now through Kristi, we are pleased to be able to offer our hands-on airbrush tanning training program to so many others on the East Coast who can not travel to Los Angeles."
About Hollywood Airbrush Tanning Academy:
Hollywood Airbrush Tanning Academy is located in Los Angeles, California and offers an extensive Airbrush Tanning Certification program to anyone who wishes to learn the art and business of spray tanning. Simone Emmons, the creator of the spray tanning training program has been a professional, licensed spray tanning technician and teacher and has helped numerous entrepreneurs from Utah, Colorado, Nevada, Minnesota, Arizona, South Carolina, Washington, Oregon, Florida, Oklahoma, California, Canada and the Island of Hawaii and Trinidad start a business in Airbrush Tanning. The spray tanning program is unique because it provides hands-on and private spray tanning training to individuals who want to start an Airbrush Tanning Business. According to Emmons, this spray tanning program gives individuals a leading edge in starting an Airbrush Tanning business immediately after finishing with the training. Students have the option to choose from a full day course of 10-12 hours or two half day courses of 5-6 hours a day or through live video conferencing. The academy is also launching a website soon so students can learn Airbrush Tanning Online. Many tanning training institutions only educate students on their own equipment and products they sell, however Hollywood Airbrush Tanning Academy does not sell any of their own products and provides training and education on all equipment and good products in the airbrush tanning industry.
Individuals interested in learning and starting a career in airbrush tanning should visit the website at HollywoodAirbrushTanningAcademy.com or for more detailed information about the airbrush tanning classes visit 1DayAirbrushTanningTraining.com