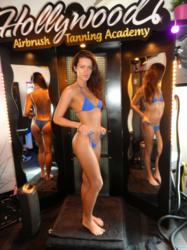 This is certainly an amazing opportunity for tanning enthusiasts to try our complimentary airbrush tans.
Los Angeles, California (PRWEB) May 10, 2013
The country's leading spray tanning training academy Hollywood Airbrush Tanning Academy is looking for spray tanning models with different skin tones to participate in their airbrush tanning events scheduled to take place in the coming weeks. The first of these events is to be held on May 20 & 21, 2013 in Charlotte, North Carolina. In the following weeks, similar events are being organized in Lewisburg, West Virginia. These spray tanning events are now available in this part of the country because the Hollywood Airbrush Tanning Academy has just started conducting their hands-on spray tanning training programs in Charlotte, North Carolina and Lewisburg, West Virginia. The academy's certified sunless tanning trainer Kristi Walker will be conducting these spray tanning training sessions.
Models from this region interested in becoming a part of these spray tanning events can register online at http://hollywoodairbrushtanningacademy.com/models. Men and women with all skin tones, preferably those with fair tones, are welcome to register online throughout the year for these events.
The models shortlisted for the free spray tanning events will be an integral part of the company's hands-on training sessions where their students will be taught the techniques of airbrush tanning with an HVLP spray gun. Each model will be teamed up with a student and the entire tanning session would require around a half an hour. The photographs of the participating models before and after the tanning session will be required, and these photographs will be used by the students to create their tanning portfolio.
Hollywood Airbrush Tanning Academy is a renowned spray tanning training center based out of Los Angeles, California that provides top of the line training program for individuals looking to build a career or business as a spray tan professional. The academy was founded in 2011 by America's leading airbrush tanning specialist Simone Emmons. Talking about her academy's upcoming free airbrush tanning events, Simone said, "This is certainly an amazing opportunity for tanning enthusiasts to try our complimentary airbrush tans. We are looking forward to receiving applications from those Charlotte and Lewisburg residents who love to get tanned."
About the Hollywood Airbrush Tanning Academy:
The Hollywood Airbrush Tanning Academy is located in Los Angeles, California and offers an extensive Spray Tanning Certification program to anyone who wishes to learn the art and business of spray tanning. Simone Emmons, the creator of the spray tanning training program has been a professional, licensed spray tanning technician and teacher and has helped numerous entrepreneurs from Utah, Colorado, Nevada, Minnesota, Arizona, South Carolina, Washington, Oregon, Florida, Oklahoma, California, Canada and the Island of Hawaii and Trinidad start a business in Airbrush Tanning. The spray tanning program is unique because it provides hands-on and private spray tanning training to individuals who want to start an Airbrush Tanning Business. According to Emmons, this spray tanning program gives individuals a leading edge in starting an Airbrush Tanning business immediately after finishing with the training. Students have the option to choose from a full day course of 10-12 hours or two half day courses of 5-6 hours a day or through live video conferencing. The academy is also launching a website soon so students can learn Airbrush Tanning Online. Many tanning training institutions only educate students on their own equipment and products they sell, however Hollywood Airbrush Tanning Academy does not sell any of their own products and provides training and education on all equipment and good products in the airbrush tanning industry. Recently, the academy added an additional trainer to hold airbrush tanning classes on the East Coast.
Individuals interested in learning and starting a career or business in airbrush tanning should visit the website at HollywoodAirbrushTanningAcademy.com or for more detailed information about the airbrush tanning classes, visit 1DayAirbrushTanningTraining.com or call or text (818) 674-9621.